Nathuram Vinayak Godse – Why I Killed Gandhi
---
Nathuram Godse was arrested immediately after he assassinated Gandhiji, based on a F. I. R. filed by Nandlal Mehta at the Tughlak Road Police station at Delhi . The trial, which was held in camera, began on May 27, 1948 and concluded on February 10, 1949. He was sentenced to death.
An appeal to the Punjab High Court, then in session at Simla, did not find favour and the sentence was upheld. The statement that you are about to read is the last made by Godse before the Court on the May 5, 1949.
Such was the power and eloquence of this statement that one of the judges, G. D. Khosla, later wrote, "I have, however, no doubt that had the audience of that day been constituted into a jury and entrusted with the task of deciding Godse's appeal, they would have brought a verdict of 'not Guilty' by an overwhelming majority"
---
Born in a devotional Brahmin family, I instinctively came to revere Hindu religion, Hindu history and Hindu culture. I had, therefore, been intensely proud of Hinduism as a whole. As I grew up I developed a tendency to free thinking unfettered by any superstitious allegiance to any isms, political or religious. That is why I worked actively for the eradication of untouchability and the caste system based on birth alone. I openly joined RSS wing of anti-caste movements and maintained that all Hindus were of equal status as to rights, social and religious and should be considered high or low on merit alone and not through the accident of birth in a particular caste or profession.
I used publicly to take part in organized anti-caste dinners in which thousands of Hindus, Brahmins, Kshatriyas, Vaisyas, Chamars and Bhangis participated. We broke the caste rules and dined in the company of each other. I have read the speeches and writings of Ravana, Chanakiya, Dadabhai Naoroji, Vivekanand, Gokhale, Tilak, along with the books of ancient and modern history of India and some prominent countries like England , France , America and Russia . Moreover I studied the tenets of Socialism and Marxism. But above all I studied very closely whatever Veer Savarkar and Gandhiji had written and spoken, as to my mind these two ideologies have contributed more to the molding of the thought and action of the Indian people during the last thirty years or so, than any other single factor has done.
All this reading and thinking led me to believe it was my first duty to serve Hindudom and Hindus both as a patriot and as a world citizen. To secure the freedom and to safeguard the just interests of some thirty crores (300 million) of Hindus would automatically constitute the freedom and the well-being of all India , one fifth of human race. This conviction led me naturally to devote myself to the Hindu Sanghtanist ideology and programme, which alone, I came to believe, could win and preserve the national independence of Hindustan , my Motherland, and enable her to render true service to humanity as well.
Since the year 1920, that is, after the demise of Lokamanya Tilak, Gandhiji's influence in the Congress first increased and then became supreme. His activities for public awakening were phenomenal in their intensity and were reinforced by the slogan of truth and non-violence which he paraded ostentatiously before the country. No sensible or enlightened person could object to those slogans. In fact there is nothing new or original in them.. They are implicit in every constitutional public movement. But it is nothing but a mere dream if you imagine that the bulk of mankind is, or can ever become, capable of scrupulous adherence to these lofty principles in its normal life from day to day.
In fact, honour, duty and love of one's own kith and kin and country might often compel us to disregard non-violence and to use force. I could never conceive that an armed resistance to an aggression is unjust. I would consider it a religious and moral duty to resist and, if possible, to overpower such an enemy by use of force. [In the Ramayana] Rama killed Ravana in a tumultuous fight and relieved Sita.. [In the Mahabharata], Krishna killed Kansa to end his wickedness; and Arjuna had to fight and slay quite a number of his friends and relations including the revered Bhishma because the latter was on the side of the aggressor. It is my firm belief that in dubbing Rama, Krishna and Arjuna as guilty of violence, the Mahatma betrayed a total ignorance of the springs of human action.
In more recent history, it was the heroic fight put up by Chhatrapati Shivaji that first checked and eventually destroyed the Muslim tyranny in India . It was absolutely essentially for Shivaji to overpower and kill an aggressive Afzal Khan, failing which he would have lost his own life. In condemning history's towering warriors like Shivaji, Rana Pratap and Guru Gobind Singh as misguided patriots, Gandhiji has merely exposed his self-conceit. He was, paradoxical as it may appear, a violent pacifist who brought untold calamities on the country in the name of truth and non-violence, while Rana Pratap, Shivaji and the Guru will remain enshrined in the hearts of their countrymen for ever for the freedom they brought to them.
The accumulating provocation of thirty-two years, culminating in his last pro-Muslim fast, at last goaded me to the conclusion that the existence of Gandhi should be brought to an end immediately. Gandhi had done very good in South Africa to uphold the rights and well-being of the Indian community there. But when he finally returned to India he developed a subjective mentality under which he alone was to be the final judge of what was right or wrong. If the country wanted his leadership, it had to accept his infallibility; if it did not, he would stand aloof from the Congress and carry on his own way.
Against such an attitude there can be no halfway house. Either Congress had to surrender its will to his and had to be content with playing second fiddle to all his eccentricity, whimsicality, metaphysics and primitive vision, or it had to carry on without him. He alone was the Judge of everyone and every thing; he was the master brain guiding the civil disobedience movement; no other could know the technique of that movement. He alone knew when to begin and when to withdraw it. The movement might succeed or fail, it might bring untold disaster and political reverses but that could make no difference to the Mahatma's infallibility. 'A Satyagrahi can never fail' was his formula for declaring his own infallibility and nobody except himself knew what a Satyagrahi is. Thus, the Mahatma became the judge and jury in his own cause. These childish insanities and obstinacies, coupled with a most severe austerity of life, ceaseless work and lofty character made Gandhi formidable and irresistible.
Many people thought that his politics were irrational but they had either to withdraw from the Congress or place their intelligence at his feet to do with as he liked. In a position of such absolute irresponsibility Gandhi was guilty of blunder after blunder, failure after failure, disaster after disaster. Gandhi's pro-Muslim policy is blatantly in his perverse attitude on the question of the national language of India . It is quite obvious that Hindi has the most prior claim to be accepted as the premier language. In the beginning of his career in India , Gandhi gave a great impetus to Hindi but as he found that the Muslims did not like it, he became a champion of what is called Hindustani.. Everybody in India knows that there is no language called Hindustani; it has no grammar; it has no vocabulary. It is a mere dialect, it is spoken, but not written. It is a bastard tongue and cross-breed between Hindi and Urdu, and not even the Mahatma's sophistry could make it popular. But in his desire to please the Muslims he insisted that Hindustani alone should be the national language of India . His blind followers, of course, supported him and the so-called hybrid language began to be used. The charm and purity of the Hindi language was to be prostituted to please the Muslims. All his experiments were at the expense of the Hindus.
From August 1946 onwards the private armies of the Muslim League began a massacre of the Hindus. The then Viceroy, Lord Wavell, though distressed at what was happening, would not use his powers under the Government of India Act of 1935 to prevent the rape, murder and arson. The Hindu blood began to flow from Bengal to Karachi with some retaliation by the Hindus. The Interim Government formed in September was sabotaged by its Muslim League members right from its inception, but the more they became disloyal and treasonable to the government of which they were a part, the greater was Gandhi's infatuation for them. Lord Wavell had to resign as he could not bring about a settlement and he was succeeded by Lord Mountbatten. King Log was followed by King Stork. The Congress which had boasted of its nationalism and socialism secretly accepted Pakistan literally at the point of the bayonet and abjectly surrendered to Jinnah. India was vivisected and one-third of the Indian territory became foreign land to us from August 15, 1947.
Lord Mountbatten came to be described in Congress circles as the greatest Viceroy and Governor-General this country ever had. The official date for handing over power was fixed for June 30, 1948, but Mountbatten with his ruthless surgery gave us a gift of vivisected India ten months in advance. This is what Gandhi had achieved after thirty years of undisputed dictatorship and this is what Congress party calls 'freedom' and 'peaceful transfer of power'. The Hindu-Muslim unity bubble was finally burst and a theocratic state was established with the consent of Nehru and his crowd and they have called 'freedom won by them with sacrifice' – whose sacrifice? When top leaders of Congress, with the consent of Gandhi, divided and tore the country – which we consider a deity of worship – my mind was filled with direful anger.
One of the conditions imposed by Gandhi for his breaking of the fast unto death related to the mosques in Delhi occupied by the Hindu refugees. But when Hindus in Pakistan were subjected to violent attacks he did not so much as utter a single word to protest and censure the Pakistan Government or the Muslims concerned. Gandhi was shrewd enough to know that while undertaking a fast unto death, had he imposed for its break some condition on the Muslims in Pakistan , there would have been found hardly any Muslims who could have shown some grief if the fast had ended in his death. It was for this reason that he purposely avoided imposing any condition on the Muslims. He was fully aware of from the experience that Jinnah was not at all perturbed or influenced by his fast and the Muslim League hardly attached any value to the inner voice of Gandhi.
Gandhi is being referred to as the Father of the Nation. But if that is so, he had failed his paternal duty inasmuch as he has acted very treacherously to the nation by his consenting to the partitioning of it. I stoutly maintain that Gandhi has failed in his duty. He has proved to be the Father of Pakistan. His inner-voice, his spiritual power and his doctrine of non-violence of which so much is made of, all crumbled before Jinnah's iron will and proved to be powerless. Briefly speaking, I thought to myself and foresaw I shall be totally ruined, and the only thing I could expect from the people would be nothing but hatred and that I shall have lost all my honour, even more valuable than my life, if I were to kill Gandhiji. But at the same time I felt that the Indian politics in the absence of Gandhiji would surely be proved practical, able to retaliate, and would be powerful with armed forces. No doubt, my own future would be totally ruined, but the nation would be saved from the inroads of Pakistan . People may even call me and dub me as devoid of any sense or foolish, but the nation would be free to follow the course founded on the reason which I consider to be necessary for sound nation-building.
After having fully considered the question, I took the final decision in the matter, but I did not speak about it to anyone whatsoever. I took courage in both my hands and I did fire the shots at Gandhiji on 30th January 1948, on the prayer-grounds of Birla House. I do say that my shots were fired at the person whose policy and action had brought rack and ruin and destruction to millions of Hindus. There was no legal machinery by which such an offender could be brought to book and for this reason I fired those fatal shots. I bear no ill will towards anyone individually but I do say that I had no respect for the present government owing to their policy which was unfairly favourable towards the Muslims. But at the same time I could clearly see that the policy was entirely due to the presence of Gandhi.
I have to say with great regret that Prime Minister Nehru quite forgets that his preachings and deeds are at times at variances with each other when he talks about India as a secular state in season and out of season, because it is significant to note that Nehru has played a leading role in the establishment of the theocratic state of Pakistan, and his job was made easier by Gandhi's persistent policy of appeasement towards the Muslims. I now stand before the court to accept the full share of my responsibility for what I have done and the judge would, of course, pass against me such orders of sentence as may be considered proper. But I would like to add that I do not desire any mercy to be shown to me, nor do I wish that anyone else should beg for mercy on my behalf. My confidence about the moral side of my action has not been shaken even by the criticism levelled against it on all sides. I have no doubt that honest writers of history will weigh my act and find the true value thereof some day in future.
Impact of Western Society on the Indian Culture
---
~ Rajalakshmi Joshi
Indian Culture, which is one of the oldest & richest cultures, is now under serious threat as western culture is making its strong base in India and slowly and gradually wiping out the Indian culture. It had already made its presence in Metro's & now slowly heading towards other parts of India. Westernization has greatly affected our traditions, customs, our family and our respect and love for others.
The concept of joint families is fading fast, and everyone wants to remain aloof. Now nobody is interested in other's affairs and only cares for himself which is totally contradictory to our Indian culture that teaches us to be a part and parcel of the society, sharing each other's Joys and sorrows. All our rich values and traditions are slowly dying down, Western Culture is taking its place. People are blindly following it without knowing the consequences. Westernization has given rise to single families.
Marriages are breaking & our tolerance and patience has exhausted. The most affected are our new blooms, which have yet to sprout. They find themselves stressed and isolated in this new atmosphere, since there is no one to take care of them. They no more get the care and love of their Grandparents. They find themselves in crutches to be taken care by others. It is very unfortunate that the new sprouts remain untouched and cut off from our great moral values and sanskaaras. In today's Scenario both husband & wife are working.
There is no one at home to look after them and to cultivate the sanskaaras in them since our elders who use to give these sanskaaras to their grand children are no longer with them. In many cases it is not deliberate but in majority of cases the children prefer to remain away from their parents which is very unfortunate.
There's no harm in taking good things from the west, but this does not mean that we should become slave to their culture, and misrepresent our identity. It is understandable that India is a growing country, so it is necessary of knowing all the cultures and their traditions. To some extent it is fine, but it is wrong to pretend and behave like Westerners and discard our own culture. We have to preserve our identity.
It is shocking to see that Indians are forgetting their culture. On the contrary westerners are looking towards Indian spirituality for solving their personal, social and national problems. They are coming to India to find peace through Yoga and Meditation. India has earned a good name in the field of Yoga and Meditation abroad. Our gurus are giving teachings to westerners how to relax & how to keep themselves fit and away from diseases.
It is very unfortunate that today's generation has very little knowledge about their culture, traditions and roots. This is not their fault but the fault of their parents who do not enlighten them about their roots, rich cultural and heritage. Contradictory to it, Parents feel proud in giving their children western Sanskaras, and they are brought up in western atmosphere. Thus, they are kept miles away from Indian culture.
There is no harm in giving knowledge of other cultures and traditions as Indians have made their presence in every part of world, but it is necessary that they should have knowledge of their own culture, traditions and language. We should also take care that our new sprouts are well versed with Indian culture and its values. It is the responsibility of parents to cultivate our rich culture and heritage in their children.
No doubt the western culture is versatile and teaches self-dependence, but this does not mean that we should forget our culture and blindly follow the westerners. We should always feel proud that we, the Indians have such a rich cultural heritage which is very rare and should be carried forward and cultivated in the minds of our New blooms who are going to be our future.
Karnavedha Sanskar – Importance of Ear Piercing in Hinduism
In India, this is called as Karna(ear) Vedha(piercing) ((Sanskrit: कर्णवेध) and is one of the Shodasha Samskaras (16 ceremonies) performed on a human between birth and death.
Ear Piercing or Karna Vedha is an ancient ceremony performed on both male and female in many countries.
This is seen across cultures in almost all continents where human civilization inhabited.
Common between male and females, it is intended to open the inner ears of the child for receiving sacred sounds. This rite has deep mystical and symbolic significance. It is believed that merely hearing sacred sounds has merit in that it cleanses sin and nurtures the spirit.
In China, this Acupuncture and Acupressure is done at a particular point on ear and it is believed to cure or prevent asthma.
Behind the ear lobe there is a natural, small microscopic depression which contains nerve endings linked with diseases like bronchial asthma, cough and tuberculosis.
Chinese science of acupuncture states that the root cause of some diseases lies in the subtle regions of every organ in the body.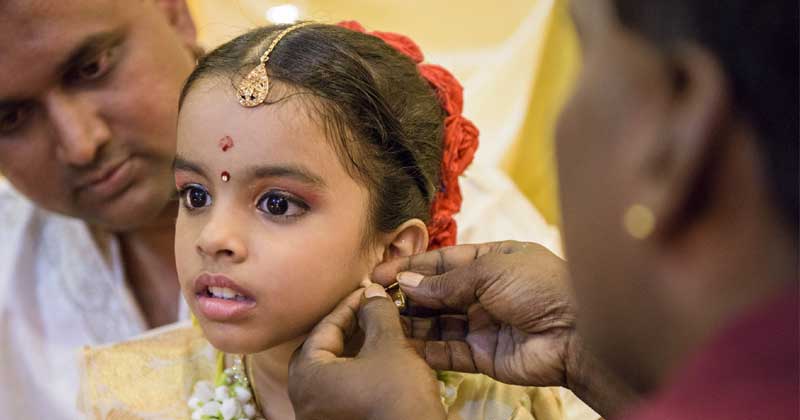 When that area is punctured, the related disease is eliminated. Study of this science was done and recorded in the Vedas much earlier and the sanskar of piercing the ear lobes was already implemented on both genders of kids.
The metal (like gold or copper) earrings are believed to help in maintaining the flow of electric current in a human body. It is also believed that ear piercing helps in maintaining the regularity in the menstrual cycle of a girl.
This part of the ear is the intuitive, Third Eye, or psychic point. It is very important that only gold, and not silver, be worn here on the ear lobe. Gold, combined with an amethyst or emerald (which are both traditionally regarded as very spiritual stones), will have an added positive effect on the function of intuition.
Ayurveda researcher and surgeon on ancient India, Susruta (6th century BC) says, "Ears of a child should be bored for protection (from diseases in his opinion) and decoration." He explicitly prescribes the boring of ears for preventing hydrocele and hernia.
Susruta gives a very cautious procedure of the ceremony. He says that the ceremony should be performed in the sixth or seventh month, in the bright half and on an auspicious day. After the preliminaries the child should be put on the lap of the mother or the nurse. Then the child should be fondled and persuaded by means of toys. Now the surgeon should pull the ears with his left hand and bore them slowly at the natural holes which are visible in the sunlight. If the ears are tender they should be pierced with a needle, if stiff with a probe. After boring oil should be applied to the ears by means of a cotton thread or bougie.
Father of Western medicine, Hippocrates, wrote about ear piercing and earring wearing around 470 BC as a remedy and treatment for menstrual problems. Galen also wrote about the same thing. In ancient times, if there was a deficiency in energy or chi, gold earrings would be placed in a pierced acu-point for stimulation. Silver earrings were used if there was excessive energy.
Ancient people treated diseases of feminine Yin organs via earrings in the left ear and diseases of the male Yang organs via the right ear. The left side of the body is the feminine side and the right side of the body is masculine.
The belly button is the seat of eroticism and sexual passion. It arouses sexual passion. This is why most belly dancers have their belly buttons pierced.
All other modern day piercings like tongue, eyebrows, nipples, sexual organs etc are simply Fad and only to express their taste. They have nothing to do with health or spirituality.
A Vegetarian Ethical Diet for Peace and Plenty
---
~ R. P. Jain, director of Motilal Banarsidass
Vegetarianism affords an ethical diet for peace and plenty. It is good for health, spirituality, sound ethics, balanced ecology and favorable economics. These are among the reasons a plant-based diet beats meat eating.
In India, the land of AHIMSA (nonviolence) people have traditionally been vegetarian. Hailing from a family of staunch vegetarians, I consider myself fortunate to be living in harmony with the principles of nature. As a follower of Jainism, I strongly advocate a vegetarian diet, which I find superior not only from a moral stance, but also from the health and culinary points of view. Guests at our home, coming from both vegetarian and non-vegetarian backgrounds, are always overwhelmed with what they describe as the unbelievable taste and richness of our vegetarian cuisine.
Sadly, in recent times many Hindus, Jains and Buddhists, especially of the younger generation, are no longer so strict about our precepts and have taken to non-vegetarian food, mostly following the misconception that meat-eating is healthy. Truth must be told; a vegetarian diet is actually much healthier than one based on animal protein. It is argued that there is a lot of protein in meat and eggs, but we do not need so much concentrated protein in our diet. There is plenty of protein in nuts, seeds, pulses and dairy products, which are also far easier to digest.
Vegetarianism supports mental and physical health as well as spiritual cultivation. Fruits, vegetables, pulses, nuts and milk products provide a balanced diet, which does not make our system toxic. This is primarily because when an animal is killed, it becomes dead matter. In the case of many vegetables, if we eat part of the vegetable and re-plant another part, it can grow again; it is still a living organism. It is a healthy sign that more and more people in the US, UK, Europe and other parts of the world are taking to a vegetarian diet in modern times, chiefly due to health reasons. There is a growing acceptance in the West that vegetarianism connotes a more positive way of living than flesh eating. In India, the pilgrimage destination of Haridwar still enjoys the status of being a vegetarian city. Even in Japan, known to be virtually 100 percent non-vegetarian, you can now find vegetarian restaurants. My friend Martin Gluckman, who runs the Vedic Society and teaches organic and Ayurvedic cooking in South Africa, hails Indian vegetarianism in the following words: "India has the world's greatest cuisine and most variety of dishes, boasting to its amazing cultural and spiritual heritage. It has a time tested vegetarian cuisine offering a delight for all senses and the heart."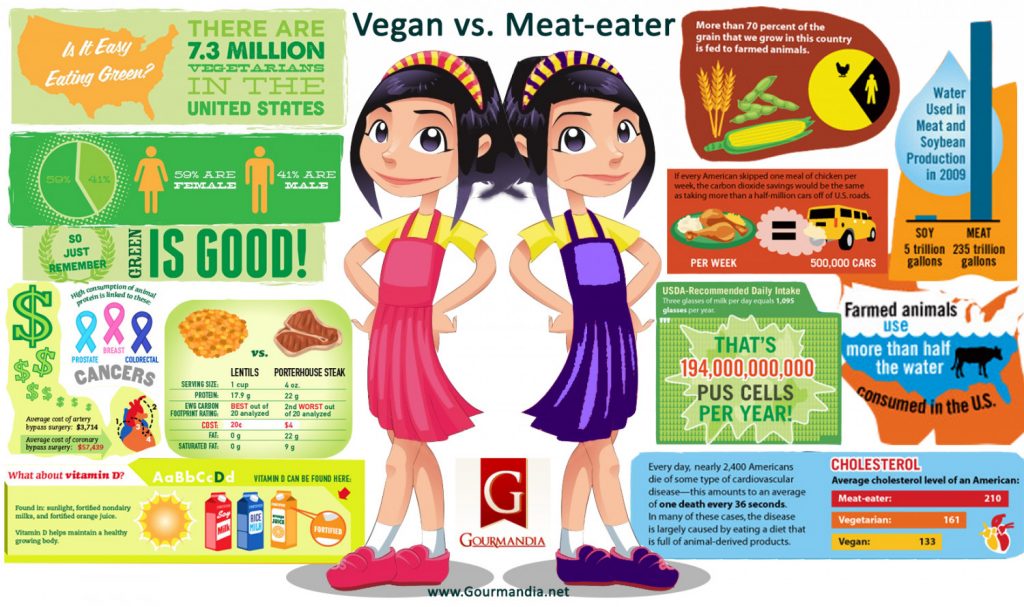 India can be proud to have the world's largest per-capita number of vegetarians (I have read reports of more than 40%). No other country can make such a statement of humanity and nonviolence. The vegetarian culture and lifestyle are India's greatest achievement and gift to the world. Only in years to come will the true value of this gift be known." It is important that we remain vegetarian not only for our health and nutrition, but from the points of view of spirituality, compassion, ethics, ecology and economics as well. When we see the end product of meat in the supermarket or leather in the shoe store, there is a long chain of violence that created it. These products endorse and perpetuate violence in our society, which contributes to the terrorism that is rampant across the world. Eating habits reflect upon a human being's thoughts, speech and behavior. A non-vegetarian diet makes one prone to violence. By moving away from food of violence we can move rapidly toward world peace.
Albert Einstein affirmed, "It is my view that the vegetarian manner of living, by its purely physical effect on human temperament, would most beneficially influence the lot of mankind." When a helpless animal is killed by a deliberate act of violence, it dies in great dread. Its body is flush with hormones produced by fear. These toxic substances enter the body of the person who eats the flesh and adversely affect his or her body and mind. I have always wondered, how can the carcass of an animal that died in mortal fear give good health and refined, spiritual inclinations to its consumer?
Additionally, meat production is one of the most environmentally damaging industries in terms of pollution and inefficient use of agricultural land. According to a 2006 report from the United nations Food & agriculture Organization, livestock production is responsible for more greenhouse gasses than all the motor vehicles in the world, plus it severely degrades land and water. It is also necessary to remove the myth and argument that vegetarians will not get enough food if non-vegetarians do not eat meat. This is a fallacy. It has been conclusively proven that more people can be sustained on vegetarian food than a diet based on meat. Live- stock occupy over 30 percent of our planet's land surface, and 33 percent of global arable land is used to grow their feed, pointing to why a meat-based diet requires seven times more land than a plant-based diet. Thus, one of the easiest ways to help restore our environment and feed more people is to stop raising and killing animals for human consumption. We have no right to take the life of an animal when we cannot give it.
Economically, a vegetarian diet is preferable to a non-vegetarian diet. The same energy one can get from meat and eggs one can get from pulses and cereals. It actually costs three or four times as much money to produce an equivalent amount of calories from animal sources as from vegetable sources. Some people may worry that self-control and too much care about nature would hamper development and bring about poverty. We know too well, however, that the more we consume, the more expensive things become, leading to the growth of the destitute class. Reckless commercial development also results in economic and social crises, bringing further suffering to the poor.
AHIMSA does not deny economic development; it only exercises self-control, limits our desires. Desires are endless. More and more desires give rise to materialism and extraordinary greed, far beyond basic human needs and sustainable consumption. Greed results in the destruction of the very roots of our life. If we want to prevent the world from becoming a barren desert and our societies from growing into monstrous systems of injustice and suffering, self-control and nonviolence appear as the only reasonable answer – not only for Jains, but for people of any creed. For any spiritual being, the destruction of life, be it in the air, the water or on the ground, is undesirable. But even if you do not subscribe to this principle, you will agree that reckless destruction of life could eventually lead to mankind's own demise. Jainism is not the only Indian school advocating nonviolence and self-control as central principles. Buddhism and Hinduism equally preach them.