To understand this concept thoroughly, we need to understand the value of a teacher or guru. In simple words, the Guru is the teacher after the parents. He is the one who passes knowledge and understanding of various subjects to his students. But according to the Hindu religion, a guru's work is much more than just imparting knowledge to his students. Besides teaching of subjects, he also teaches him how to live in the society happily with full of values or ethics and then spreads his teachings in the society. The guru is regarded as a sole guide who had been evolved spiritually to impart his teachings. Besides imparting knowledge in various subjects, the role of the guru was to train the students in discipline and etiquette. He taught students how to live a life full of discipline and ethical principles. A guru was always taken as a guiding force his students. The guru acted as the father of the student and his wife as a guru-mata. The guru-ma acted as the mother of the students in the gurukul. The gurus all lived with the students like a one family, no matter whatever social status students belonged to, or came from. The guru taught many things to the students just like his own children. After the completion of the formal education, the students needed to repay the guru as a gratitude and respect. And finally this is known as the 'Guru Dakshina'. It involved a way of thanking the guru for whatever he would impart to his students.
The great example of Gurudakshina was given by Ekalavya, a Bheel tribal boy to his Guru Dronacharya. Ekalvya learnt archery from the sculpture he made of his guru . when the guru came to know this he demanded Eklavya's thumb as guru dakshina, Eklavya  without any hesitation cut his thumb and gave it to his teacher.
The difference between the ancient education and the modern education is at the basic level only. In the ancient world, the entire education system was only and only spiritual knowledge. The professional education was given very little importance because very little wealth was sufficient to serve the basic needs of the human beings. In the present modern world, the spiritual knowledge is lesser  and the entire education system is only at professional level. The importance of a teacher or a mentor cannot be undermined in any respect, in fact it shouldn't be. A teacher is a person who is actually responsible for the academic growth and he/she is the person who actually shows the light to the path to reach goals or dream imagined by his /her student.. A teacher helps a student to understand basics of education, a teacher helps in understanding the intricacies around books and subjects and it is a teacher who guides a student towards the right path for achieving the goal.
In the present day, the teachers impart knowledge in various fields like science, math, history, geography, and many more. But it was quite different from the ancient times of India. Today this type of examples cannot be found in our societies. The concept of Guru Dakshina has diminished. In this modern era, we can see the crowding of the students at greetings card galleries and flower shops only on the teacher's day. This act, whether to show off attitude or love and devotion for the teacher, is still to be known.
Teachers are supposed to be non money minded, selfless and very sacrificing in nature. As per scriptures they are supposed to not generate or store wealth but remain poor and sustain by getting alms. But is it possible to do that today? 
There are good teachers, friendly, helpful and put the needs of their students above themselves. They learn constantly to better themselves, so that they can be a better teacher. Still, Teaching to them   is a job, one that they do well albeit, but it is a job and expects to be paid enough. There are no qualms about saying so and it doesn't make teachers money hungry.   They too have a life and a family to take care of. In fact there have been many instances when students have (almost) convinced that teachers deserved to be paid much more. But again, just because they get paid to teach, doesn't mean their respect as Guru diminishes.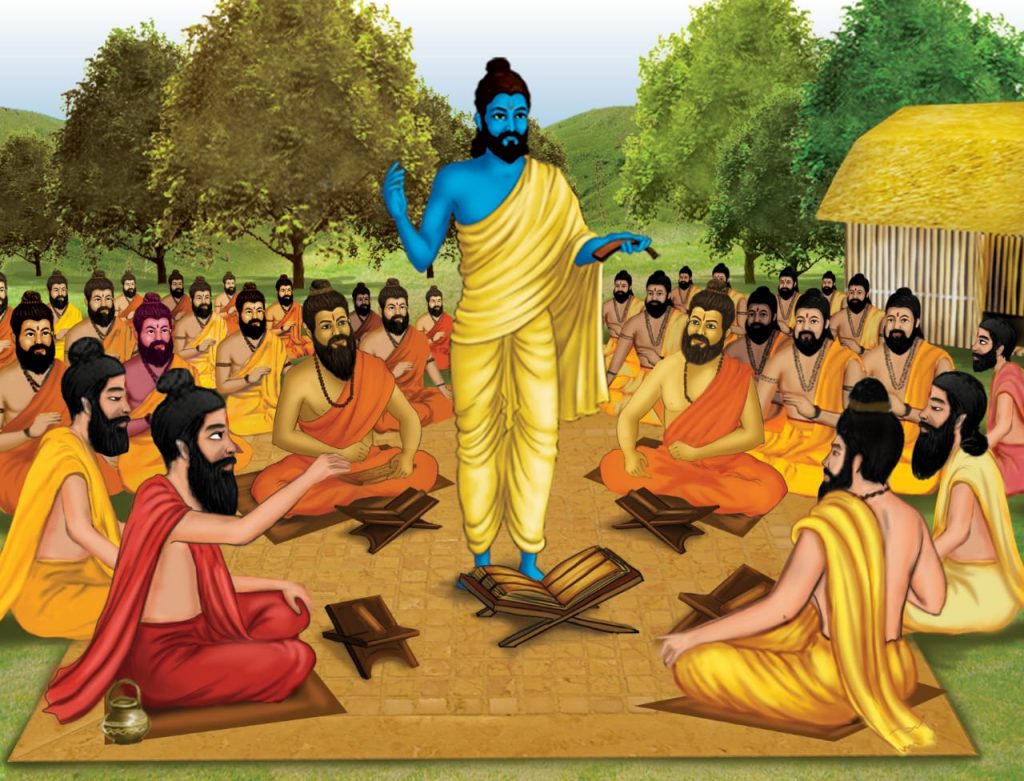 So how do we pay Guru Dakshina in this age of Google, where knowledge is freely dispensed.  Just because someone is giving away knowledge for free, doesn't mean that they can be taken for granted. Today teachers are uploading loads of hard work content on Google and you tube benefiting millions of students at a time. They deserve credit, don't they?   While paying for someone's tutorials really works, it might not be feasible for everyone to do it and we might not even look for it. But what instructors, teachers look for is due credit. Students can promote their work, their site, their blog or even their products. Recommend them to their friends, readers, even customers. It's free to do, but it might result in the teacher getting more attention and respect and this could be one of the many ways to give Guru Dakshina.  "We can live and let live; share what was shared with us by the teachers and that may be one of the way students can pay Guru Dakshina in this YouTube age"
Krishna was a God or a man, he was a great teacher. Throughout his life and through his words in the Bhagavad Gita, Krishna taught mankind to believe in themselves in the power of hope and to be courageous in making an effort to do things. He advocated the discipline of Karma – that good deeds begot good results. He thought us to value our friendships, our relationships and to have a selfless love for our friends. Inspirations are meant to be talked about and sources don't have to be kept hidden. Like Krishna advises we can live and let live; share what was shared with us. If someone has taught you something, don't be selfish, don't hoard it; Pass it on. That's how you can show gratitude towards your mentor, your teacher.
We all should be grateful to the God to have been blessed to have teachers around us because there are still so many students like Eklavya who are unfortunate to not have good teachers and mentors around them.
Whenever you meet someone who guides you in your life or coaches you or mentors you to make your life better and meaningful, have the attitude to pay him back in whatever form you can. Develop a habit of sending 'Thank You' letters to your teachers and mentors. Remember to wish them on their birthdays and anniversaries. Whenever in your life you feel that any of their past teachings helped you, don't hesitate to call him/her or email saying thank you very much. If you haven't done till now then DO IT right away.