Uddhav Thackeray takes Gaumutra jibe at BJP on Dussehra
Maharashtra CM also takes on BJP and its Bihar ally Nitish Kumar, defends Mumbai Police and son Aaditya Thackeray in Sushant Singh Rajput death case.
Mumbai: Maharashtra Chief Minister Uddhav Thackeray emphasised Sunday that his party Shiv Sena's Hindutva is "more real", and asked his ally-turned-rival Bharatiya Janata Party (BJP) to take lessons on the subject from Rashtriya Swayamsevak Sangh chief Mohan Bhagwat.
Thackeray's remarks come at a time when the BJP has been questioning the Shiv Sena's Hindutva, demanding that the Maha Vikas Aghadi government — consisting of Thackeray's party and its former rivals NCP and Congress — open temples in the state that have been shut since the Covid-19 lockdown was imposed in March. Maharashtra Governor Bhagat Singh Koshyari, a former BJP functionary, had even written to Thackeray about this demand, and asked him if he had "become secular".
However, Thackeray, speaking at the Shiv Sena's annual Dussehra rally, said: "We are being asked questions about Hindutva because we aren't opening temples… There's a huge difference between your Hindutva and (Shiv Sena founder and his father) Balasaheb Thackeray's Hindutva. He used to say 'I don't want the Hindutva of ringing bells'."
दसरा मेळावा – २०२० https://t.co/98TroPYYw8

— Office of Uddhav Thackeray (@OfficeofUT) October 25, 2020
Thackeray said RSS chief Bhagwat's Dussehra speech explained the meaning of Hindutva in an exemplary way, and said it is the same narrative that Bal Thackeray advocated.
Bhagwat said in his address at the RSS headquarters in Nagpur that the word 'Hindutva' expresses identity, continuity of spirituality-based traditions and the entire wealth of value system in the land of Bharat.
"If you have a brain under those caps that you wear, think about the RSS chief's words and understand Hindutva first," Thackeray said, adding that the speech should be published in the Shiv Sena mouthpiece, Saamana.
"Bhagwat also said, politics is not war… Why are you more interested in toppling the government?" Thackeray said, challenging the BJP to try and destabilise the MVA government, which completes a year on 28 November.
"Listen to your RSS chief. Instead, if you are just looking at the chair, then the legs of the chair can be cut any time. Today, the NDA has crumbled," he added.
In a departure from tradition, the Shiv Sena's Dussehra rally was held at the Swatantra Veer Savarkar auditorium in Dadar this year instead of at Shivaji Park, in a bid to restrict the number of attendees to 50 due to the Covid crisis. Thackeray made a special mention of the venue being Hindutva ideologue Savarkar's memorial at Dadar.
Over 1,000 Pakistani Girls abducted and forcibly converted to Islam every year
---
Rights groups say each year in Pakistan, as many as 1,000 girls are forcibly converted to Islam, often after being abducted or tricked
KARACHI, Pakistan — Neha loved the hymns that filled her church with music. But she lost the chance to sing them last year when, at the age of 14, she was forcibly converted from Christianity to Islam and married to a 45-year-old man with children twice her age.

She tells her story in a voice so low it occasionally fades away. She all but disappears as she wraps a blue scarf tightly around her face and head. Neha's husband is in jail now facing charges of rape for the underage marriage, but she is in hiding, afraid after security guards confiscated a pistol from his brother in court.

"He brought the gun to shoot me," said Neha, whose last name The Associated Press is not using for her safety.
Neha is one of nearly 1,000 girls from religious minorities who are forced to convert to Islam in Pakistan each year, largely to pave the way for marriages that are under the legal age and non-consensual. Human rights activists say the practice has accelerated during lockdowns against the coronavirus, when girls are out of school and more visible, bride traffickers are more active on the Internet and families are more in debt.
The U.S. State Department this month declared Pakistan "a country of particular concern" for violations of religious freedoms — a designation the Pakistani government rejects. The declaration was based in part on an appraisal by the U.S. Commission on International Religious Freedom that underage girls in the minority Hindu, Christian, and Sikh communities were "kidnapped for forced conversion to Islam… forcibly married and subjected to rape."
While most of the converted girls are impoverished Hindus from southern Sindh province, two new cases involving Christians, including Neha's, have roiled the country in recent months.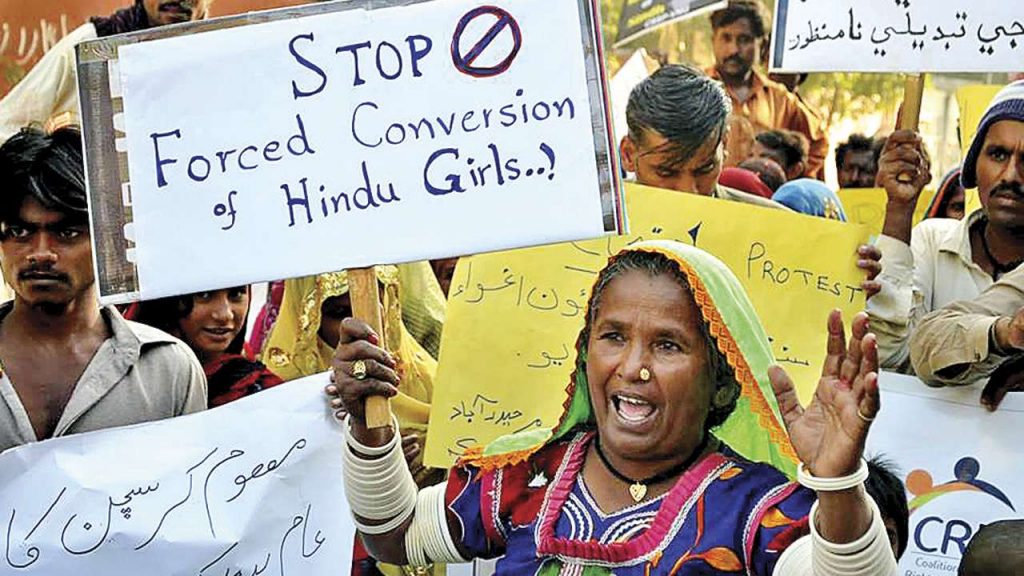 The girls generally are kidnapped by complicit acquaintances and relatives or men looking for brides. Sometimes they are taken by powerful landlords as payment for outstanding debts by their farmhand parents, and police often look the other way. Once converted, the girls are quickly married off, often to older men or to their abductors, according to the independent Human Rights Commission of Pakistan.
Forced conversions thrive unchecked on a money-making web that involves Islamic clerics who solemnize the marriages, magistrates who legalize the unions and corrupt local police who aid the culprits by refusing to investigate or sabotaging investigations, say child protection activists.
One activist, Jibran Nasir, called the network a "mafia" that preys on non-Muslim girls because they are the most vulnerable and the easiest targets "for older men with pedophilia urges."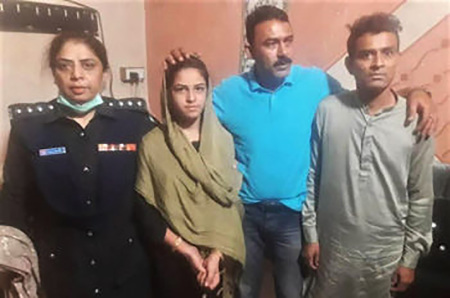 The goal is to secure virginal brides rather than to seek new converts to Islam. Minorities make up just 3.6 percent of Pakistan's 220 million people and often are the target of discrimination. Those who report forced conversions, for example, can be targeted with charges of blasphemy.
In the feudal Kashmore region of southern Sindh province, 13-year-old Sonia Kumari was kidnapped, and a day later police told her parents she had converted from Hinduism to Islam. Her mother pleaded for her return in a video widely viewed on the internet: "For the sake of God, the Quran, whatever you believe, please return my daughter, she was forcibly taken from our home."
But a Hindu activist, who didn't want to be identified for fear of repercussions from powerful landlords, said she received a letter that the family was forced to write. The letter claimed the 13-year-old had willingly converted and wed a 36-year-old who was already married with two children.
The parents have given up.
Arzoo Raja was 13 when she disappeared from her home in central Karachi. The Christian girl's parents reported her missing and pleaded with police to find her. Two days later, officers reported back that she had been converted to Islam and was married to their 40-year-old Muslim neighbor.
In Sindh province, the age of consent for marriage is 18 years old. Arzoo's marriage certificate said she was 19.
The cleric who performed Arzoo's marriage, Qasi Ahmed Mufti Jaan Raheemi, was later implicated in at least three other underage marriages. Despite facing an outstanding arrest warrant for solemnizing Arzoo's marriage, he continued his practice in his ramshackle office above a wholesale rice market in downtown Karachi.
When an Associated Press reporter arrived at his office, Raheemi fled down a side stair, according to a fellow cleric, Mullah Kaifat Ullah, one of a half-dozen clerics who also performs marriages in the complex. He said another cleric is already in jail for marrying children.
While Ullah said he only marries girls 18 and above, he argued that "under Islamic law a girl's wedding at the age of 14 or 15 is fine."
Arzoo's mother, Rita Raja, said police ignored the family's appeals until one day she was videotaped outside the court sobbing and pleading for her daughter to be returned. The video went viral, creating a social media storm in Pakistan and prompting the authorities to step in.
"For 10 days, the parents were languishing between the police station and government authorities and different political parties," Nasir, the activist, said. "They were not being given any time… until it went viral. That is the real unfortunate thing over here."
Authorities have stepped in and arrested Arzoo's husband, but her mother said her daughter still refuses to come home. Raja said she is afraid of her husband's family.
The girl who loved hymns, Neha, said she was tricked into the marriage by a favorite aunt, who told Neha to accompany her to the hospital to see her sick son. Her aunt, Sandas Baloch, had converted to Islam years before and lived with her husband in the same apartment building as Neha's family.
"All Mama asked when we left was 'when will you be back?'" remembered Neha.
Instead of going to the hospital, she was taken to the home of her aunt's in-laws and told she would marry her aunt's 45-year-old brother-in-law.
"I told her I can't, I am too young and I don't want to. He is old," Neha said. "She slapped me and locked me up in a room."
Neha told of being taken before two men, one who was to be her husband and the other who recorded her marriage. They said she was 19. She said she was too frightened to speak because her aunt threatened to harm her two-year-old brother if she refused to marry.
She learned of her conversion only when she was told to sign the marriage certificate with her new name — Fatima.
For a week she was locked in one room. Her new husband came to her on the first night. Tears stained her blue scarf as she remembered it:
"I screamed and cried all night. I have images in my mind I can't scratch out," said Neha. "I hate him."
His elder daughter brought her food each day, and Neha begged for help to escape. Although the woman was frightened of her father, she relented a week after the marriage, bringing the underage bride a burqa — the all-covering garment worn by some Muslim women — and 500 rupees (about $3). Neha fled.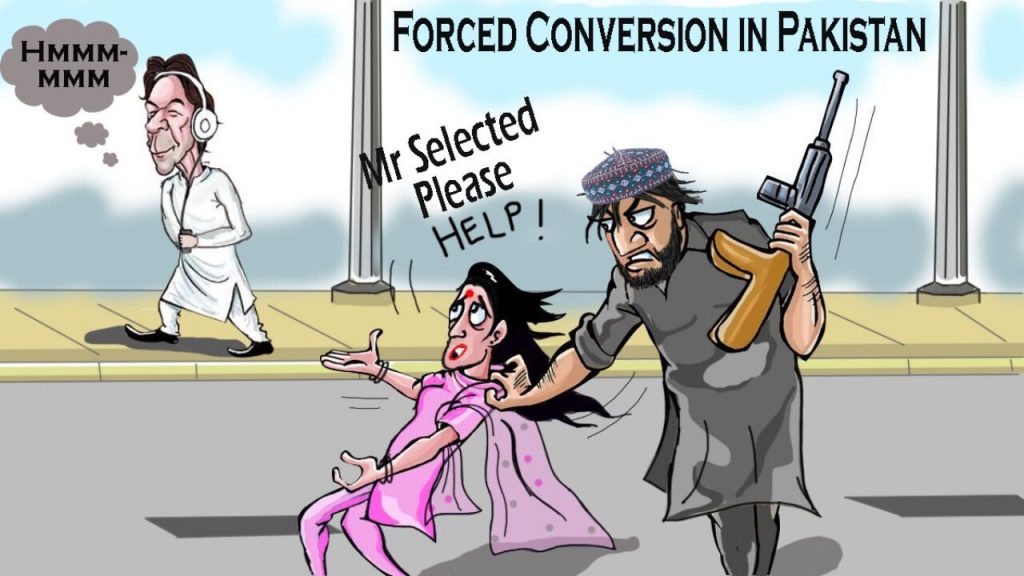 But when she arrived home, Neha found her family had turned against her.
"I went home and I cried to my Mama about my aunt, what she said and the threats. But she didn't want me anymore," said Neha.
Her parents feared what her new husband might do to them, Neha said. Further, the prospects of marriage for a girl in conservative Pakistan who has been raped or married before are slim, and human rights activists say they often are seen as a burden.
Neha's family, including her aunt, all refused to talk to the AP. Her husband's lawyer, Mohammad Saleem, insisted that she married and converted voluntarily.
Neha found protection at a Christian church in Karachi, living on the compound with the pastor's family, who say the girl still wakes screaming in the night. She hopes to go back to school one day but is still distraught.
"At the beginning my nightmares were every night, but now it is just sometimes when I remember and inside I am shaking," she said. "Before I wanted to be a lawyer, but now I don't know what I will do. Even my mama doesn't want me now."
(Source: ABC News)
No 'Caste': Uttar Pradesh Transport Department To Seize Vehicles Donning 'Caste' Stickers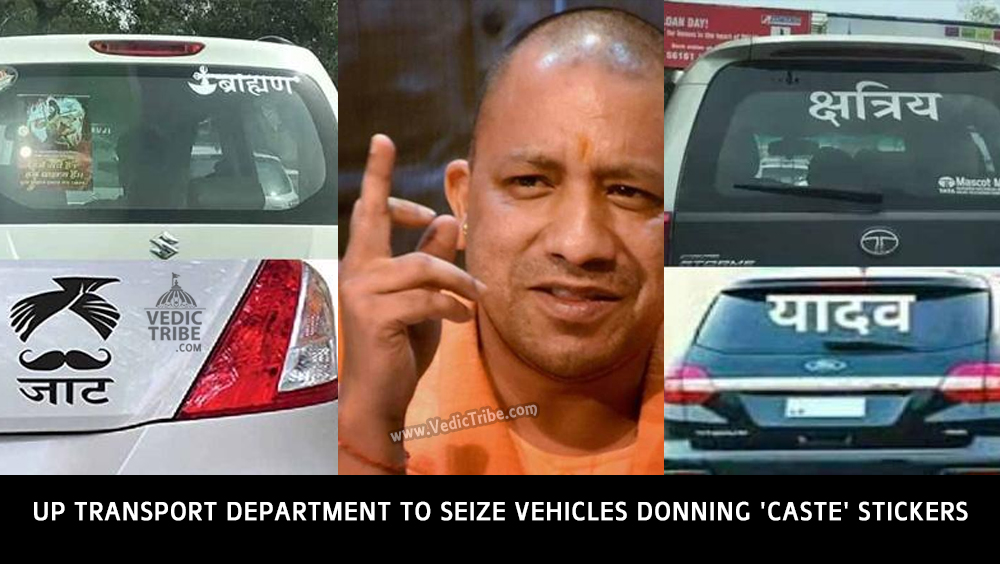 ---
The caste system in our country has always been a topic of concern, and especially in the last few years, things seem to have taken a turn for the worse.
A very common sight in Uttar Pradesh is for people to get their caste boldly printed on their windscreens or number plates of vehicles. 
Castes like Yadav, Jat, Gurjar, Brahmin, Pandit, Kshatriya, Lodhi and Maurya appear to be competing with each other, in asserting their dominant social or political status by putting the caste and sub-caste name tags on their SUVs, cars, motorcycles and other vehicles.
However, the Uttar Pradesh transport department has had enough of it. They are cracking down on vehicles boasting of their owners' caste. 
The transport department has launched the drive after instructions from the Prime Minister's Office (PMO). Vehicles displaying caste stickers will now be seized.
A teacher from Maharashtra, Harshal Prabhu wrote a letter on IGRS, an integrated system designed for redressal of grievances.
In his letter, Prabhu wrote that the display of such stickers is a threat to the social fabric of society. The PMO took note of the letter and sent it to the Uttar Pradesh government according to Hindustan Times.
"Such stickers should not be pasted on the vehicles. Those who are found guilty of the offence, their vehicle will be seized. According to our enforcement teams, every 20th vehicle is found carrying such a sticker. Our headquarters has asked us to take action against such vehicle owners," DK Tripathi, deputy transport commissioner, Kanpur, told Hindustan Times.
This practice of people displaying their caste identities on vehicles allegedly became popular during the Samajwadi Party (SP) regime under Mulayam Singh Yadav (2003-07). It had become fashionable to drive SUVs and motorcycles with 'Yadav' written in bold letters on them.
Now, Kshatriya, Thakur or Rajput can also be frequently seen written on vehicles.
Sikh Radio Host (Harnek Singh) stabbed and shot after he supported the new farm laws in India, in critical condition in New Zealand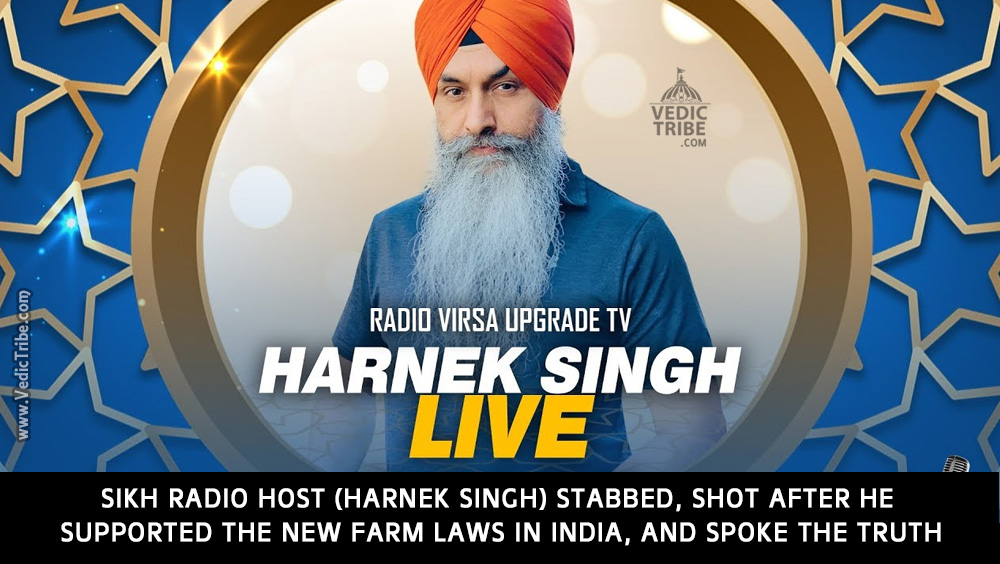 ---
Harnek Singh had recently spoken against the farmers protesting against the three laws passed by the Indian government
An Indian-origin radio host in Auckland in New Zealand is fighting for his life in hospital after he was stabbed multiple times on a highway. The attack is being linked with his criticism of the ongoing protests by farmers of Punjab in India.
According to the reports, the 53-year-old Harnek Singh was stabbed by unknown assailants on December 23 night near his residence in Wattle Downs. The Indian-origin radio host remains in a critical condition in Middlemore Hospital currently.
HE IS TARGETED BECAUSE HE SPOKE UNCOMFORTABLE TRUTH – MUST WATCH
The friends of Harnek Singh claimed that the attack was religiously motivated. It is the second public attack Singh has suffered this year after he was assaulted in Love Punjab Restaurant on his birthday in July.
Singh's colleagues at Radio Virsa, where he hosts a program dedicated to the Sikh community, said he was attacked as he was returning home this week from that day's broadcast.
Harnek Singh discusses religious issues, spoke about farmers' protests too
Balwinder Singh, who is a co-worker of Harnek Singh at Radio Virsa, which discusses religious and cultural issues in the Auckland Sikh community, said that from the wounds he had it can be said that he was attacked by sharp weapons.
"He's OK, his condition is stable and he's at Middlemore. We believe so [he was stabbed]. The motivation behind the attack obviously has to do with what he says on the radio, what opinion on different issues and topics which have been discussed on the radio. Mainly on this radio program, a lot of religious issues have been discussed. So let's just say a lot of traditional myths that people believe in, and we on the radio try to explain to people to look at it in a practical way other than the mythical point of view that most people have," Balwinder Singh said.
He continued saying that Harnek Singh's show would obviously upset someone who is religiously fanatic, and someone who looks at the religion in a mythical point of view as a lot of religions do.
Reportedly, Harnek Singh had recently spoken against the farmers protesting against the three laws passed by the Indian government. Singh was constantly speaking on his radio and YouTube channel against the farmers' protest, which may also have triggered an attack against him. He had recently appealed to the protesting farmers to withdraw the politically-motivated protests in Delhi.
In the last few years, the authorities in NZ had heard eight complaints against Singh for comments he had made in Punjabi language to a caller about the Sikh sect Damdami Taksaal in response to recent violent incidents in India.