Significance of Tilak or Bindi in Hinduism
The term "bindi" stems from the Sanskrit word bindu, which means drop or particle. Because of the many languages and dialects spoken throughout India, it is important to note that bindis are otherwise known by many other names, including kumkum, sindoor, teep, tikli and bottu.
However, the meaning behind the ornament, regardless of region or language, remains the same.
Around 3000 BC, the rishi-muni (ancient seers of Hinduism) wrote the Vedas, in which they described the existence of areas of concentrated energy called the chakras. There are seven main chakras that run along the center of the body, and the sixth one (called the ajna chakra, the "brow chakra" or "third eye chakra") occurs exactly where the bindi is placed.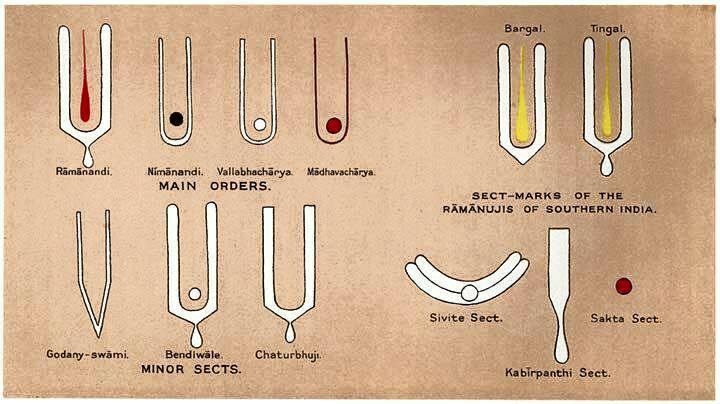 In Sanskrit, ajna translates as "command" or "perceive," and is considered the eye of intuition and intellect. According to the Vedas, when something is seen in the mind's eye or in a dream, it is also seen by ajna. Thus, the bindi's purpose is to enhance the powers of this chakra, specifically by facilitating one's ability to access their inner wisdom or guru, allowing them to see the world and interpret things in a truthful, unbiased manner as well as forsake their ego and rid their false labels.
Hindu tradition holds that all people have a third inner eye. The two physical eyes are used for seeing the external world, while the third focuses inward toward God. As such, the red dot signifies piety as well as serving as a constant reminder to keep God at the center of one's thoughts.
SIGNIFICANCE OF A BINDI FOR A MARRIED WOMAN:
The bindi, especially a red-colored one, also serves as an auspicious sign of marriage. As the Hindu bride steps over the threshold of her husband's home, her red bindi is believed to usher in prosperity and grant her a place as the family's newest guardian. As such, when a woman is widowed, she no longer wears a red bindi due to its association with marriage. At most, she will wear a black dot on her forehead.
USE OF THE BINDI IN A SPIRITUAL WAY:
In a spiritual view, bindi plays the most important role in Hindu culture. Every morning a Hindu takes a bath and sits in prayer just to seek the absolute truth through every prayer. However, it is true that one cannot sit in prayer the whole day. So when you leave the prayer room, you are expected to put some mark on your forehead, to remind you throughout the day about all the activities and the purpose of life. It is obvious you cannot see the mark on your own forehead every time so whenever you see it on another face, you will get a chance to recall the purpose of your life. The idea is to remember that all the things you are doing are dedicated towards the achievement of this supreme goal of self realization.
USE OF BINDI IN THE SOCIETY:
Society has always wanted to categorize or tag people in groups and the bindi performed a similar function in the 'Social' realm. The social purpose was to ward of the evil eye of the young unmarried girl by making her wear a 'black' Bindi. The married women wore a red Bindi. The 4 castes wore different coloured tilak though this is not followed except in very conservative families in the villages.
1. The Brahmins who were priests or academicians wore a tilak of white sandal wood signifying purity.
2. The Khatriyas (Kings, Warriors and Administrators) wore red tilak to signify valor.
3. The Vaishyas (Business men) wore a yellow tilak signifying prosperity.
4. The Sudra (service class) wore black tilak to signify service to the other classes.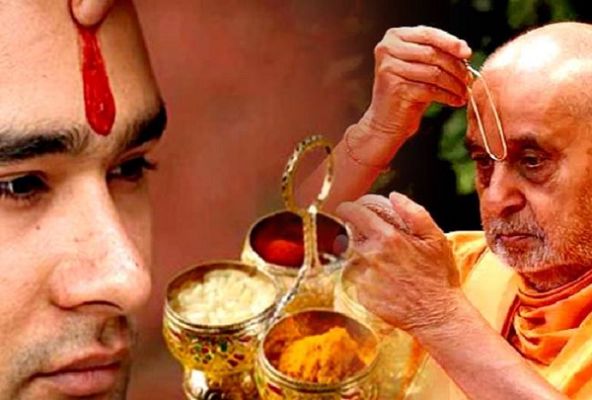 USE OF WEARING BINDI FROM A HEALTHY VIEWPOINT:
From a health point of view, the bindi is worn between the eyebrows where the pineal gland lies. This is an important nerve center and applying sandalwood or ash keeps the nerves cool and so keeps one cool and conserves energy. In the past the bindi was made from the yellow and red sandalwood, red and yellow turmeric, saffron, various flowers, ash, zinc oxide. All these had cooling properties in nature. Today people wear bindis made with glue or glass and doesn't benefit in any way but is more of an accessory.
SPIRITUAL SIGNIFICANCE OF A BINDI:
The Ajna Chakra is considered to be the place of the "Third Eye" where one applies the Bindi. The Ajna Chakra is the site where one finally loses Ahamkara (ego or sense of individuality) when one achieves self-realization or reaches a higher level of spirituality. It is a way to remind one another in the society to see through the mind's eye and see the bigger picture of the "Universe as One".
In modern times, however, the bindi's symbolism is no longer strictly adhered to. Bindis now come in all shapes, sizes and colors, and are largely used as beauty accessories.
This evokes the question of cultural appropriation, as many Hollywood celebrities (Vanessa Hudgens, Gwen Stefani, Selena Gomez) have began wearing the bindi as a fashion statement. While some individuals with traditional bindi-wearing cultures criticize this act, there are others who view it simply as an attempt to embrace Indian culture.
Impact of Western Society on the Indian Culture
---
~ Rajalakshmi Joshi
Indian Culture, which is one of the oldest & richest cultures, is now under serious threat as western culture is making its strong base in India and slowly and gradually wiping out the Indian culture. It had already made its presence in Metro's & now slowly heading towards other parts of India. Westernization has greatly affected our traditions, customs, our family and our respect and love for others.
The concept of joint families is fading fast, and everyone wants to remain aloof. Now nobody is interested in other's affairs and only cares for himself which is totally contradictory to our Indian culture that teaches us to be a part and parcel of the society, sharing each other's Joys and sorrows. All our rich values and traditions are slowly dying down, Western Culture is taking its place. People are blindly following it without knowing the consequences. Westernization has given rise to single families.
Marriages are breaking & our tolerance and patience has exhausted. The most affected are our new blooms, which have yet to sprout. They find themselves stressed and isolated in this new atmosphere, since there is no one to take care of them. They no more get the care and love of their Grandparents. They find themselves in crutches to be taken care by others. It is very unfortunate that the new sprouts remain untouched and cut off from our great moral values and sanskaaras. In today's Scenario both husband & wife are working.
There is no one at home to look after them and to cultivate the sanskaaras in them since our elders who use to give these sanskaaras to their grand children are no longer with them. In many cases it is not deliberate but in majority of cases the children prefer to remain away from their parents which is very unfortunate.
There's no harm in taking good things from the west, but this does not mean that we should become slave to their culture, and misrepresent our identity. It is understandable that India is a growing country, so it is necessary of knowing all the cultures and their traditions. To some extent it is fine, but it is wrong to pretend and behave like Westerners and discard our own culture. We have to preserve our identity.
It is shocking to see that Indians are forgetting their culture. On the contrary westerners are looking towards Indian spirituality for solving their personal, social and national problems. They are coming to India to find peace through Yoga and Meditation. India has earned a good name in the field of Yoga and Meditation abroad. Our gurus are giving teachings to westerners how to relax & how to keep themselves fit and away from diseases.
It is very unfortunate that today's generation has very little knowledge about their culture, traditions and roots. This is not their fault but the fault of their parents who do not enlighten them about their roots, rich cultural and heritage. Contradictory to it, Parents feel proud in giving their children western Sanskaras, and they are brought up in western atmosphere. Thus, they are kept miles away from Indian culture.
There is no harm in giving knowledge of other cultures and traditions as Indians have made their presence in every part of world, but it is necessary that they should have knowledge of their own culture, traditions and language. We should also take care that our new sprouts are well versed with Indian culture and its values. It is the responsibility of parents to cultivate our rich culture and heritage in their children.
No doubt the western culture is versatile and teaches self-dependence, but this does not mean that we should forget our culture and blindly follow the westerners. We should always feel proud that we, the Indians have such a rich cultural heritage which is very rare and should be carried forward and cultivated in the minds of our New blooms who are going to be our future.
Karnavedha Sanskar – Importance of Ear Piercing in Hinduism
In India, this is called as Karna(ear) Vedha(piercing) ((Sanskrit: कर्णवेध) and is one of the Shodasha Samskaras (16 ceremonies) performed on a human between birth and death.
Ear Piercing or Karna Vedha is an ancient ceremony performed on both male and female in many countries.
This is seen across cultures in almost all continents where human civilization inhabited.
Common between male and females, it is intended to open the inner ears of the child for receiving sacred sounds. This rite has deep mystical and symbolic significance. It is believed that merely hearing sacred sounds has merit in that it cleanses sin and nurtures the spirit.
In China, this Acupuncture and Acupressure is done at a particular point on ear and it is believed to cure or prevent asthma.
Behind the ear lobe there is a natural, small microscopic depression which contains nerve endings linked with diseases like bronchial asthma, cough and tuberculosis.
Chinese science of acupuncture states that the root cause of some diseases lies in the subtle regions of every organ in the body.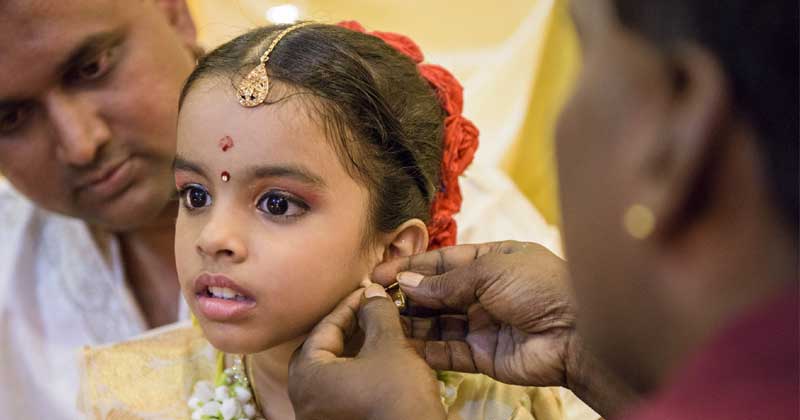 When that area is punctured, the related disease is eliminated. Study of this science was done and recorded in the Vedas much earlier and the sanskar of piercing the ear lobes was already implemented on both genders of kids.
The metal (like gold or copper) earrings are believed to help in maintaining the flow of electric current in a human body. It is also believed that ear piercing helps in maintaining the regularity in the menstrual cycle of a girl.
This part of the ear is the intuitive, Third Eye, or psychic point. It is very important that only gold, and not silver, be worn here on the ear lobe. Gold, combined with an amethyst or emerald (which are both traditionally regarded as very spiritual stones), will have an added positive effect on the function of intuition.
Ayurveda researcher and surgeon on ancient India, Susruta (6th century BC) says, "Ears of a child should be bored for protection (from diseases in his opinion) and decoration." He explicitly prescribes the boring of ears for preventing hydrocele and hernia.
Susruta gives a very cautious procedure of the ceremony. He says that the ceremony should be performed in the sixth or seventh month, in the bright half and on an auspicious day. After the preliminaries the child should be put on the lap of the mother or the nurse. Then the child should be fondled and persuaded by means of toys. Now the surgeon should pull the ears with his left hand and bore them slowly at the natural holes which are visible in the sunlight. If the ears are tender they should be pierced with a needle, if stiff with a probe. After boring oil should be applied to the ears by means of a cotton thread or bougie.
Father of Western medicine, Hippocrates, wrote about ear piercing and earring wearing around 470 BC as a remedy and treatment for menstrual problems. Galen also wrote about the same thing. In ancient times, if there was a deficiency in energy or chi, gold earrings would be placed in a pierced acu-point for stimulation. Silver earrings were used if there was excessive energy.
Ancient people treated diseases of feminine Yin organs via earrings in the left ear and diseases of the male Yang organs via the right ear. The left side of the body is the feminine side and the right side of the body is masculine.
The belly button is the seat of eroticism and sexual passion. It arouses sexual passion. This is why most belly dancers have their belly buttons pierced.
All other modern day piercings like tongue, eyebrows, nipples, sexual organs etc are simply Fad and only to express their taste. They have nothing to do with health or spirituality.
A Vegetarian Ethical Diet for Peace and Plenty
---
~ R. P. Jain, director of Motilal Banarsidass
Vegetarianism affords an ethical diet for peace and plenty. It is good for health, spirituality, sound ethics, balanced ecology and favorable economics. These are among the reasons a plant-based diet beats meat eating.
In India, the land of AHIMSA (nonviolence) people have traditionally been vegetarian. Hailing from a family of staunch vegetarians, I consider myself fortunate to be living in harmony with the principles of nature. As a follower of Jainism, I strongly advocate a vegetarian diet, which I find superior not only from a moral stance, but also from the health and culinary points of view. Guests at our home, coming from both vegetarian and non-vegetarian backgrounds, are always overwhelmed with what they describe as the unbelievable taste and richness of our vegetarian cuisine.
Sadly, in recent times many Hindus, Jains and Buddhists, especially of the younger generation, are no longer so strict about our precepts and have taken to non-vegetarian food, mostly following the misconception that meat-eating is healthy. Truth must be told; a vegetarian diet is actually much healthier than one based on animal protein. It is argued that there is a lot of protein in meat and eggs, but we do not need so much concentrated protein in our diet. There is plenty of protein in nuts, seeds, pulses and dairy products, which are also far easier to digest.
Vegetarianism supports mental and physical health as well as spiritual cultivation. Fruits, vegetables, pulses, nuts and milk products provide a balanced diet, which does not make our system toxic. This is primarily because when an animal is killed, it becomes dead matter. In the case of many vegetables, if we eat part of the vegetable and re-plant another part, it can grow again; it is still a living organism. It is a healthy sign that more and more people in the US, UK, Europe and other parts of the world are taking to a vegetarian diet in modern times, chiefly due to health reasons. There is a growing acceptance in the West that vegetarianism connotes a more positive way of living than flesh eating. In India, the pilgrimage destination of Haridwar still enjoys the status of being a vegetarian city. Even in Japan, known to be virtually 100 percent non-vegetarian, you can now find vegetarian restaurants. My friend Martin Gluckman, who runs the Vedic Society and teaches organic and Ayurvedic cooking in South Africa, hails Indian vegetarianism in the following words: "India has the world's greatest cuisine and most variety of dishes, boasting to its amazing cultural and spiritual heritage. It has a time tested vegetarian cuisine offering a delight for all senses and the heart."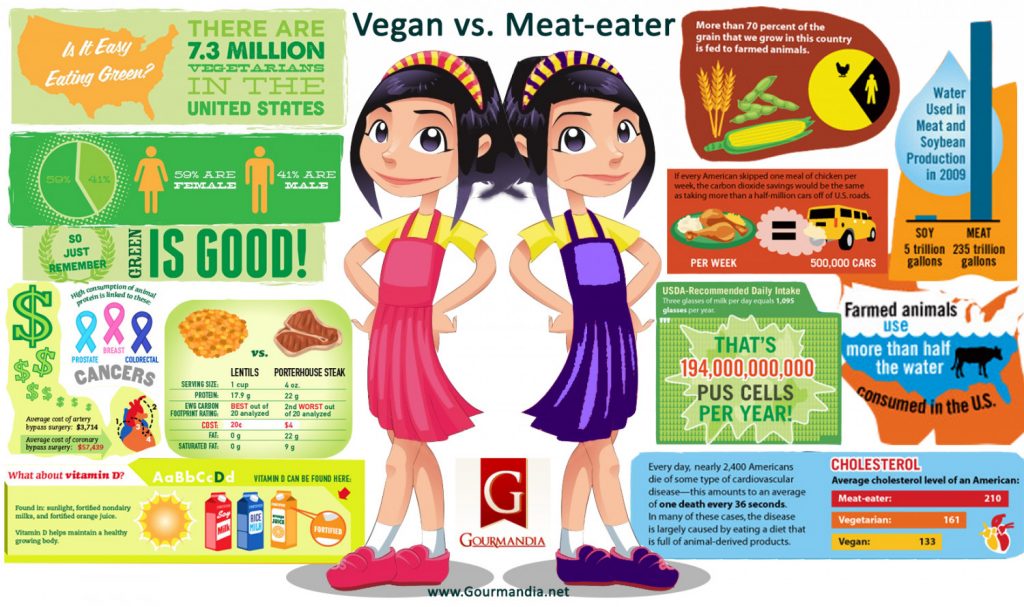 India can be proud to have the world's largest per-capita number of vegetarians (I have read reports of more than 40%). No other country can make such a statement of humanity and nonviolence. The vegetarian culture and lifestyle are India's greatest achievement and gift to the world. Only in years to come will the true value of this gift be known." It is important that we remain vegetarian not only for our health and nutrition, but from the points of view of spirituality, compassion, ethics, ecology and economics as well. When we see the end product of meat in the supermarket or leather in the shoe store, there is a long chain of violence that created it. These products endorse and perpetuate violence in our society, which contributes to the terrorism that is rampant across the world. Eating habits reflect upon a human being's thoughts, speech and behavior. A non-vegetarian diet makes one prone to violence. By moving away from food of violence we can move rapidly toward world peace.
Albert Einstein affirmed, "It is my view that the vegetarian manner of living, by its purely physical effect on human temperament, would most beneficially influence the lot of mankind." When a helpless animal is killed by a deliberate act of violence, it dies in great dread. Its body is flush with hormones produced by fear. These toxic substances enter the body of the person who eats the flesh and adversely affect his or her body and mind. I have always wondered, how can the carcass of an animal that died in mortal fear give good health and refined, spiritual inclinations to its consumer?
Additionally, meat production is one of the most environmentally damaging industries in terms of pollution and inefficient use of agricultural land. According to a 2006 report from the United nations Food & agriculture Organization, livestock production is responsible for more greenhouse gasses than all the motor vehicles in the world, plus it severely degrades land and water. It is also necessary to remove the myth and argument that vegetarians will not get enough food if non-vegetarians do not eat meat. This is a fallacy. It has been conclusively proven that more people can be sustained on vegetarian food than a diet based on meat. Live- stock occupy over 30 percent of our planet's land surface, and 33 percent of global arable land is used to grow their feed, pointing to why a meat-based diet requires seven times more land than a plant-based diet. Thus, one of the easiest ways to help restore our environment and feed more people is to stop raising and killing animals for human consumption. We have no right to take the life of an animal when we cannot give it.
Economically, a vegetarian diet is preferable to a non-vegetarian diet. The same energy one can get from meat and eggs one can get from pulses and cereals. It actually costs three or four times as much money to produce an equivalent amount of calories from animal sources as from vegetable sources. Some people may worry that self-control and too much care about nature would hamper development and bring about poverty. We know too well, however, that the more we consume, the more expensive things become, leading to the growth of the destitute class. Reckless commercial development also results in economic and social crises, bringing further suffering to the poor.
AHIMSA does not deny economic development; it only exercises self-control, limits our desires. Desires are endless. More and more desires give rise to materialism and extraordinary greed, far beyond basic human needs and sustainable consumption. Greed results in the destruction of the very roots of our life. If we want to prevent the world from becoming a barren desert and our societies from growing into monstrous systems of injustice and suffering, self-control and nonviolence appear as the only reasonable answer – not only for Jains, but for people of any creed. For any spiritual being, the destruction of life, be it in the air, the water or on the ground, is undesirable. But even if you do not subscribe to this principle, you will agree that reckless destruction of life could eventually lead to mankind's own demise. Jainism is not the only Indian school advocating nonviolence and self-control as central principles. Buddhism and Hinduism equally preach them.