---
Neem tree has been described in Ayurveda's prime text, the Charaka Samhita, as sarva roga nivarini (that which keeps all diseases at bay) or arishtha (reliever of disease). 
Its extracts have been used in the Ayurvedic tradition for thousands of years for maintaining health and overall well-being. The roots, bark, gum, leaves, fruit, seed kernels and seed oil are all used in therapeutic preparations for both internal and topical use.
Ancient Indians system of Ayurveda believed in utilizing everything nature had to give to promote an all natural healing remedies for a healthy lifestyle. One such herb of India with worldwide fame and known for its amazing healing properties and medicinal value is Neem. Neem, commonly known as Margosa in English or "Aritha" in Sanskrit, is known as the free tree of India as it is found almost everywhere. It is part of every Indian home due to its many applications and is considered to be sacred. Everything from this tree can be used in one way or the other. The bark extrudes a fluid called neera, green leaves, branches, small white flowers that blossom in spring to the oval fruits that contain one seed each that contains oil.
External Health Application
Applying Neem powder or oil topically helps in healing wounds, burn injuries, itch, rash, infection or allergy. Taking bath with Neem helps the body counter mild infections. Its tropical application can relieve acne, eczema and even ringworms. The oil is extensively used for hair loss, greying hair, dandruff or lice.Its local application of arthritic conditions like rheumatoid arthritis, gout, osteoarthritis, lower back pain and muscular-skeletal pain has had good results.
Internal Health Application
Chewing on a Neem twig has been a common practice in India to prevent gum disease and maintain strong and healthy teeth. However, as the twig is very bitter, it is now utilized in Neem toothpaste that helps prevent cavities, gingivitis, tooth loss or toothache.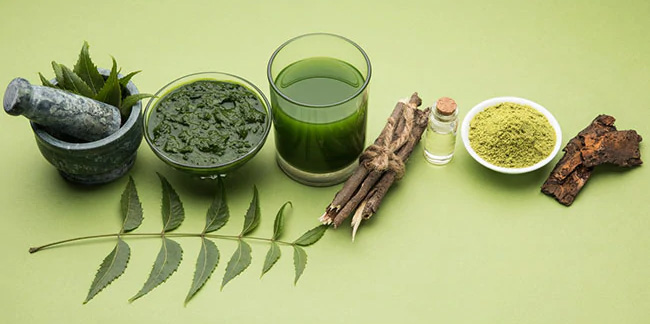 Neem is beneficial in with indigestion, constipation, bad taste in mouth, deworming, gastritis, is a blood purifier, detoxicant and cures urinary tract infection. It helps in maintaining proper secretions of liver; works as an anti-inflammatory and pain relieving agent, suppresses fever and relieves cough.
Beauty Application
Adding boiled Neem water to bath helps rid of skin infections, acne and white heads. In this form it makes a great skin toner to clear scars, pigmentation and blackheads on face.
Boil Neem leaves with small segment of orange peel in a bit of water. Add honey, yogurt, soy milk to for a smooth paste and apply to face to clear skin problems and also to reduce appearance of pores.
Pesticide Application:
Neem has been used as a natural pesticide because of its remarkable property to fight pests and other organisms that are harmful for agricultural and household purpose. It is considered to be the most wonderful discovery for humans. It acts as anti-bacterial, anti-parasitic, anti-fungal, anti-protozoan and anti-viral.
Despite all the health benefits, Neem is largely ignored by urban folks in favour of more synthetic ingredients. However, as more and more research is being done on Neem outside India, we are finding ourselves coming back to this very ancient yet very useful, simple and miraculous tree that was cherished by Ayurveda over 5,000 years ago!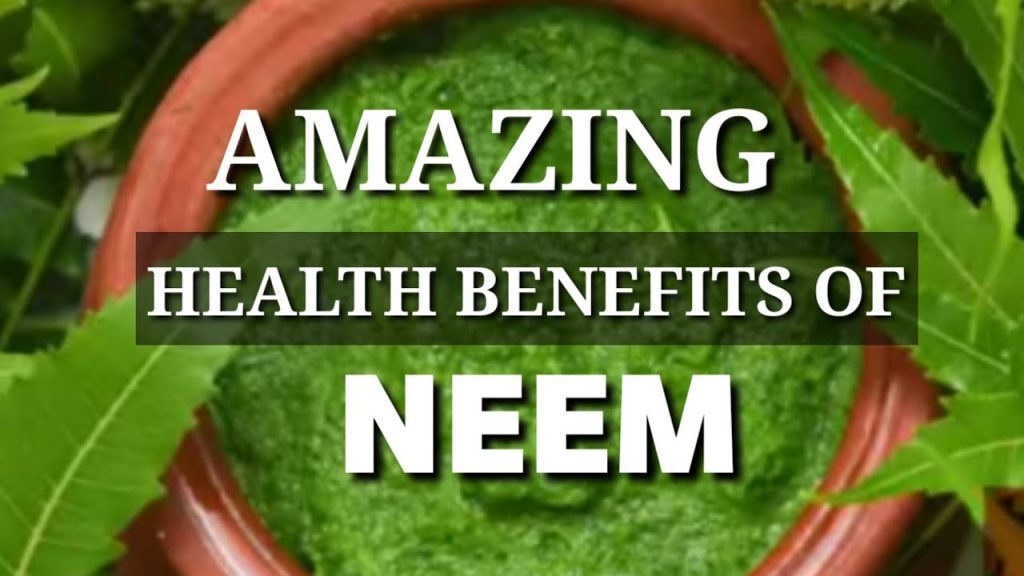 Health Benefits of Neem
Neem, a tree native to India, is a vital ingredient in Ayurveda. Regarded as a 'one tree pharmacy', the Neem tree has several medicinal uses and forms an integral part of home remedies for the hair and skin.
Neem leaf has antifungal and antibacterial properties, making it effective in treating dandruff.
It also relieves dryness and itching, strengthens hair and promotes hair growth.
Traditionally, neem paste has been used to condition the hair and scalp.
It also soothes irritation, prevents dryness and flaking.
Neem is mentioned in most Ayurvedic formulations for the treatment of skin disorders because of its detoxifying properties.
The growth of acne-causing bacteria such as propionibacterium acnes (P. acnes) and staphylococcus epidermidis is also inhibited by neem.
The role of neem in acne is further supported by studies which have shown that it exhibits anti-inflammatory activity by suppressing P. acnes-induced reactive oxygen species (ROS) and the pro-inflammatory cytokines TNF-a and IL-8.
Neem oil and neem leaves are excellent skin care ingredients. The oil relieves dry skin and soothes itchiness, redness and irritation.
It also improves general skin health and immunity, combating bacterial infections such as acne, boils and ulcers.

Its antimicrobial properties help heal wounds without causing any infections or septic conditions.
For acne, neem tackles bacteria from the root and prevents the recurrence of pimples and blemishes.
It is especially beneficial for skin disorders like eczema and minor skin infections. Neem leaves also eliminate acne-causing bacteria.
It is also a gastro protective element and effective in healing ulcers.
It contains high level of antioxidants that help protect skin from environmental damage and from aging.
Neem oil contains fatty acid and vitamin E that gets absorbed easily into the skin, it helps rejuvenate skin cells and restore elasticity.
It helps maintain a glowing skin and balance skin tone.
The high fatty-acid content in neem oil helps prevent and treat scars from acne.
Neem leaves are also excellent exfoliants; it tightens pores and removes impurities when used as a mask.
It is an excellent healer of skin fungal infections.
~ Chandrika Mahendra, Senior Research Scientist, R & D, The Himalaya Drug Company