Dinacharya – 10 Ayurvedic Daily Routines for Perfect Health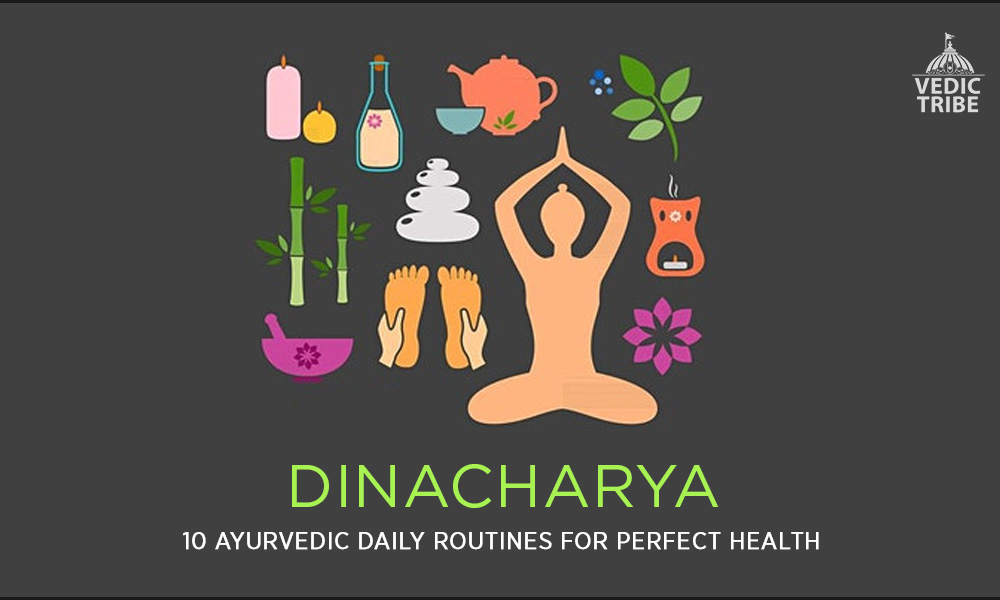 ~By Kiren Dhaliwal
Daily routine is a vital and integral part of our state of health. A routine that is followed with care and awareness with respect to our individual constitution and balance will bring many health benefits. In Ayurveda there are certain steps to starting the day, and whilst these can take up some time, they are valuable in their relation to boosting vitality.
To help bring us in tune with nature, and rather our own intelligence, following a dinacharya [daily routine] is essential for establishing great health and regularizing our own biological clock. A proper morning routine can assist in digestion, absorption and assimilation as well as generating peace, discipline, happiness and longevity. It is important to assess any imbalances and your natural constitution before initiating a daily routine as it should be catered to your current state of health. However, there are some general guidelines that are recommended from an ayurvedic perspective.
10 Steps To Perfect Health
1. Awaken Early
Whilst this is not an easy task for some, arising early is beneficial in starting the day. The pure and subtle qualities of nature that is present at this time of the day will bring peace and freshness to the mind and senses. People who have more of the earth and water qualities should arise between 5-5.30AM. Those who have more of the fire element should arise between 5.30-6AM and those who have more light, air and space constitutions should arise between 6-6.30AM.
After arising it is beneficial to say a little prayer or mantra before getting out of bed. This is a divine way of starting the day and induce positivity and light into your life.
2. Tongue Scraping
Washing the face with cold water will bring alertness to the mind. It is a good idea to also wash the eyes and rinse the mouth with cool water. There are a few ayurvedic eye washes that are recommended based upon ones constitution. Triphala tea, rose water and even diluted pomegranate juice are effective eye wash solutions.
An important part of the dinacharya is scraping the tongue. Scraping the tongue can aid in digestion, absorption and assimilation as it stimulates the internal organs. It also removes bacteria. There are a variety of tongue scrapers available on the market today – gold, copper and silver ones. However, stainless steel tongue scrapers are generally suitable for all.
3. Drink Warm Water
Although many use caffeine as a morning drink for stimulation, warm water is more preferable at promoting health. Drinking water, especially from a copper cup, can enhance peristalsis and also flushes the kidneys. Caffeine can contribute to adrenal fatigue and constipation and is therefore not recommended as part of a healthy daily routine.
4. Evacuation
Elimination is one of the three pillars of health according to Ayurveda. If there is proper daily elimination, good health is simpler to attain. When food is not properly digested toxins can build up, creating sluggish digestion. It is important to train the body to have a daily elimination. According to Ayurveda if one misses a daily bowel movement, then the person is said to be constipated. In today's medical world, constipation is classified as having fewer than three bowel movements a week. To ensure that daily elimination is taking place, one must follow a proper diet and lifestyle for their constitution. Keeping hydrated and the use of herbs, such as triphala, can also help with regulation of bowels.
5. Oil Swish – Gargle
There are many health benefits of oil pulling. This is a technique where a tablespoon of oil (usually sesame or coconut) is swished in the mouth for 10-20 minutes. From promoting dental hygiene to detoxifying the body and increasing energy, oil pulling is an ancient yet current health benefit. However if time is a factor, even a few minutes of oil swishing is advantageous. After spitting out the oil be sure to massage the gums and brush thoroughly. In Ayurveda this practice is referred to as 'Gandusha'.

6. Nose Drops (Nasya)
Administering ghee or oils in the nasal passages can help with lubrication, cleansing and enhancing mental clarity and improving vision. Making sure that one is lying down with their nostrils parallel to the ceiling, add 3-5 nasal drops into each nostril and sniff deeply but gently. It is advisable to lie for a few minutes to allow the nasal drops to nourish prana. There are a variety of nasal drops recommended, such as brahmi ghee, calamus oil (medicated, not the essential oil) and regular ghee or sesame oil. It is important to note that nasya should not be done an hour before or after showering, or after exercising. It is also recommended to do nasya on an empty stomach. The health benefits of nasya are extensive.
7. Oil Massage (Abhyanga)
Massaging oil on the body is a great way to keep the skin soft, supple and wrinkle free. It is a rejuvenating technique that improves circulation and, when done at night, induces sleep. Massaging the scalp can prevent hair loss and graying. In the evenings, massaging the scalp and soles of the feet with bhringraj oil can help in achieving a calm, restorative sleep.
It is advisable to start with the outer extremities and work towards the heart. One should massage in a linear fashion along the limbs and with circular motions on the joints. Some popular oils used are coconut, sesame, sunflower and almond. According to one's natural constitution, one should pick an oil that is appropriate to their state of balance.
8.

Bathing
Bathing should follow abhyanga to remove any excess oil left on the skin. Bathing is not only cleansing and refreshing, but also an activity that improves mental clarity and revitalizes the body. Using natural and chemical free soaps are recommended. During the summer months it is advisable to shower with cooler water than the winter months. This helps the body to keep in tune with nature and the surrounding environment.
9. Yoga/ Pranayama (breathing exercises)
Practicing yoga daily is recommended for all body types. There are various postures and poses that can help to alleviate many conditions and diseases. Yoga is a vital and important daily activity that brings balance and serenity into life.
There are many types of breathing techniques that have various uses for the body. From lowering blood pressure to reducing weight and cooling the body, it is important to know which pranayama would be indicated for personal use. Pranayama increases the vital energy force in the body and therefore is recommended for health and longevity.
Exercise is an important part of life. Walking daily, particularly in the early mornings, maintains good health and balance. Although many people practice vigorous exercise, this is not always recommended. Ayurveda advises stretching and breathing whereas straining is to be avoided.
10. Meditation
The profound health benefits of meditation are staggering. A simple technique, it allows one to connect with the divinity within oneself and should be a daily practice. There are a few methods that one can choose from simple breathing to mantra based meditation. Amongst many benefits, meditation brings peace, harmony and clarity into one's life.
These are considered general and basic guidelines for overall health and wellbeing.
This is strictly for educational use and not to be considered medical advice.
References
· Lad, V. (1999). The complete book of Ayurvedic home remedies.
· Sharma, H. (2011). Ayurvedic Healing. Singing Dragon
· Lad, V. (2002). Textbook of Ayurveda. Albuquerque, N.M.: Ayurvedic Press.
· Lad, V. (2012). Ayurvedic perspectives on selected pathologies
· Pole, S. (2013). Ayurvedic medicine the principles of traditional practice
Health Benefits of Ginger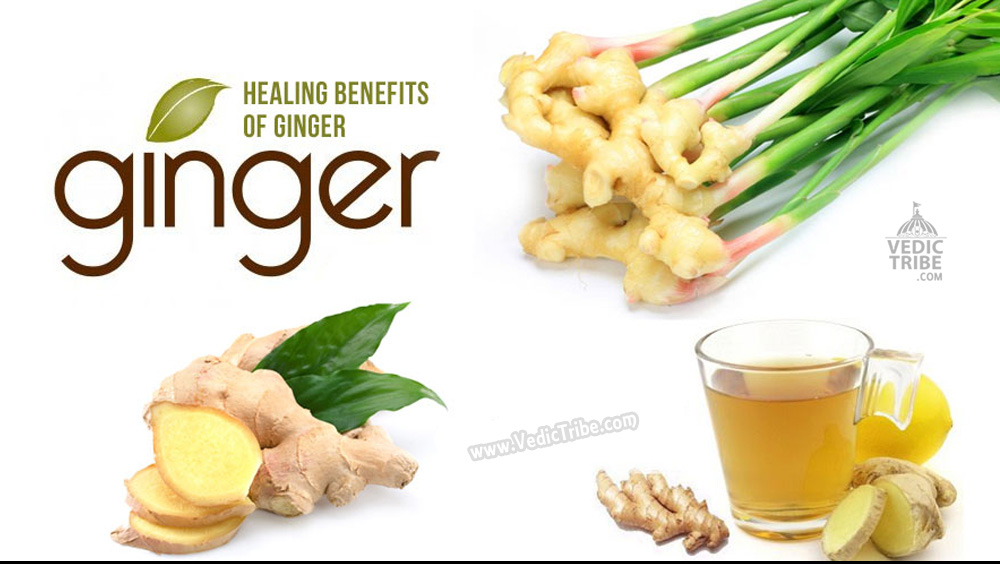 ---
Ayurveda gives ginger the status of a virtual medicine chest. That's because this wonder spice has time-tested, digestion-friendly properties, in addition to its numerous other health benefits. In India, ginger is liberally used in daily life. Ginger-infused chai is a household favorite, and it's grandma's antidote of choice for battling cold and flu.
On millions of dining tables in India, you'll see matchsticks of fresh ginger that have turned a soft pink from being soaked in lemon juice and salt: a zingy accompaniment to any cooked meal.
Let's give this knobbly root a closer look.
10 Terrific Benefits of Ginger
Traditional medicine systems all over the world have applied ginger to a wide range of ailments, including calming an upset stomach. Recent studies of ginger have confirmed this effect and much more. Let's take a look at some of the amazing benefits of ginger.
1. Helps Calm Nausea & Vomiting
Clinical studies have shown ginger's effectiveness at calming nausea and vomiting. Research has also confirmed its potential for soothing chemotherapy-induced nausea and vomiting. The majority of studies found a positive effect of ginger against this side effect of aggressive therapies
2. Digestive Tract Protection
Ginger has also been used historically for flatulence, constipation, bloating, and other digestive complaints. In addition to these gastro-protective effects, researchers have found ginger to be effective for stress-related ulcers.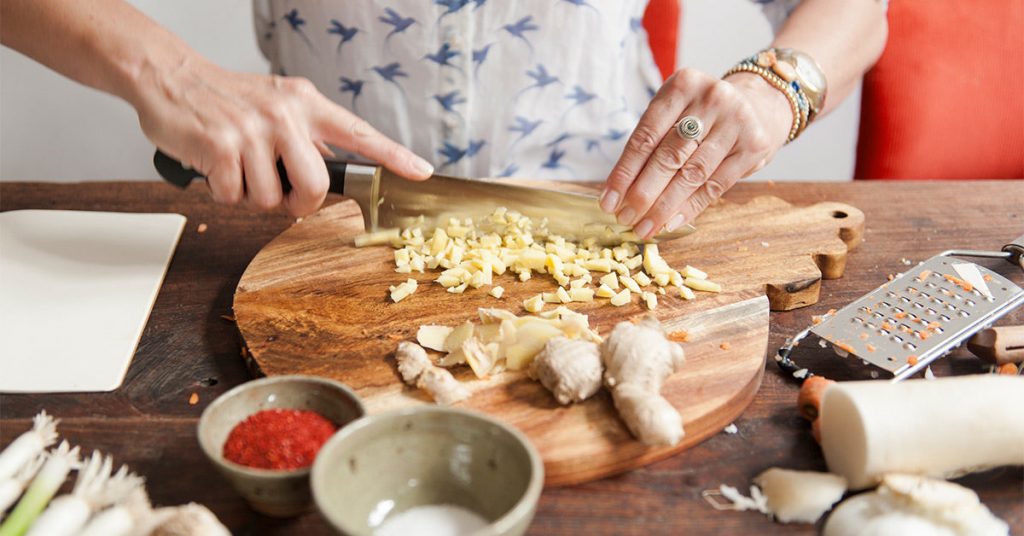 3. Brain Health
Ginger contains compounds that have demonstrated protective effects for the brain. One of them, known as 6-shogaol, inhibited the release and expression of redness-causing chemicals which damage neurons (nerve cells). Another ginger compound, 10-gingerol, similarly acted in an anti-neuroinflammatory manner. In other words, fresh ginger's 10-gingerol reduced redness and swelling in the brain.
4. Migraine Relief
In a clinical trial, 100 patients received ginger powder or a drug given to migraine sufferers. The results showed the ginger powder helped reduce migraine related discomfort without side effects.
5. Protection From UV Rays
Ginger possesses UV-absorbing capabilities that protect against DNA damage related to UVB (ultraviolet-B) light. Extracts from ginger stimulated the production of an antioxidant protein in cells, and provided protective effects against damaging UV light.
6. Supports Stable Blood Sugar
Ginger has repeatedly demonstrated powerful blood sugar balancing effects. It acts on insulin release and sensitivity and supports the metabolism of carbohydrates and lipids. Insulin levels may noticeably lower with ginger supplementation. In addition to its effectiveness as a blood sugar stabilizer, ginger has also shown powerful protective effects against diabetic kidney, eye, and liver complications.
7. Promotes Healthy Blood Pressure
Thai medical practitioners have traditionally used herbs such as ginger to support healthy blood pressure. Extracts from ginger and other herbs used in therapeutic recipes were evaluated for their effectiveness against hypertension. The ginger extract was the most effective.
8. May Benefit Osteoarthritis
A recent study tested ginger against drugs used for osteoarthritis — the ginger extract was demonstrated to be as effective. Another group of people with osteoarthritis found ginger to be as effective and safer than NSAIDs.
9. Helps With Muscle Aches & Discomfort
Ginger can be used to relieve muscle discomfort in female athletes. After taking ginger for six weeks, athketes taking ginger saw a significant decrease in muscle soreness as compared to the placebo.
10. May Benefit Cardiovascular Function
One of the active compounds in ginger, 6-gingerol, has been isolated, tested, and determined to be an active factor in supporting cardiovascular health. Based on the results, researchers are exploring the potentials of ginger as a remedy for cardiovascular concerns.
Using Ginger
Ginger has an extremely robust flavor which makes consuming it a little bit tricky. It might be too strong to ingest on its own, but as I mentioned, it mixes incredibly well into tea or fresh juice. It also makes a great ingredient in many recipes, and you can find it in some healthy snacks.
A Vegetarian Ethical Diet for Peace and Plenty
---
~ R. P. Jain, director of Motilal Banarsidass
Vegetarianism affords an ethical diet for peace and plenty. It is good for health, spirituality, sound ethics, balanced ecology and favorable economics. These are among the reasons a plant-based diet beats meat eating.
In India, the land of AHIMSA (nonviolence) people have traditionally been vegetarian. Hailing from a family of staunch vegetarians, I consider myself fortunate to be living in harmony with the principles of nature. As a follower of Jainism, I strongly advocate a vegetarian diet, which I find superior not only from a moral stance, but also from the health and culinary points of view. Guests at our home, coming from both vegetarian and non-vegetarian backgrounds, are always overwhelmed with what they describe as the unbelievable taste and richness of our vegetarian cuisine.
Sadly, in recent times many Hindus, Jains and Buddhists, especially of the younger generation, are no longer so strict about our precepts and have taken to non-vegetarian food, mostly following the misconception that meat-eating is healthy. Truth must be told; a vegetarian diet is actually much healthier than one based on animal protein. It is argued that there is a lot of protein in meat and eggs, but we do not need so much concentrated protein in our diet. There is plenty of protein in nuts, seeds, pulses and dairy products, which are also far easier to digest.
Vegetarianism supports mental and physical health as well as spiritual cultivation. Fruits, vegetables, pulses, nuts and milk products provide a balanced diet, which does not make our system toxic. This is primarily because when an animal is killed, it becomes dead matter. In the case of many vegetables, if we eat part of the vegetable and re-plant another part, it can grow again; it is still a living organism. It is a healthy sign that more and more people in the US, UK, Europe and other parts of the world are taking to a vegetarian diet in modern times, chiefly due to health reasons. There is a growing acceptance in the West that vegetarianism connotes a more positive way of living than flesh eating. In India, the pilgrimage destination of Haridwar still enjoys the status of being a vegetarian city. Even in Japan, known to be virtually 100 percent non-vegetarian, you can now find vegetarian restaurants. My friend Martin Gluckman, who runs the Vedic Society and teaches organic and Ayurvedic cooking in South Africa, hails Indian vegetarianism in the following words: "India has the world's greatest cuisine and most variety of dishes, boasting to its amazing cultural and spiritual heritage. It has a time tested vegetarian cuisine offering a delight for all senses and the heart."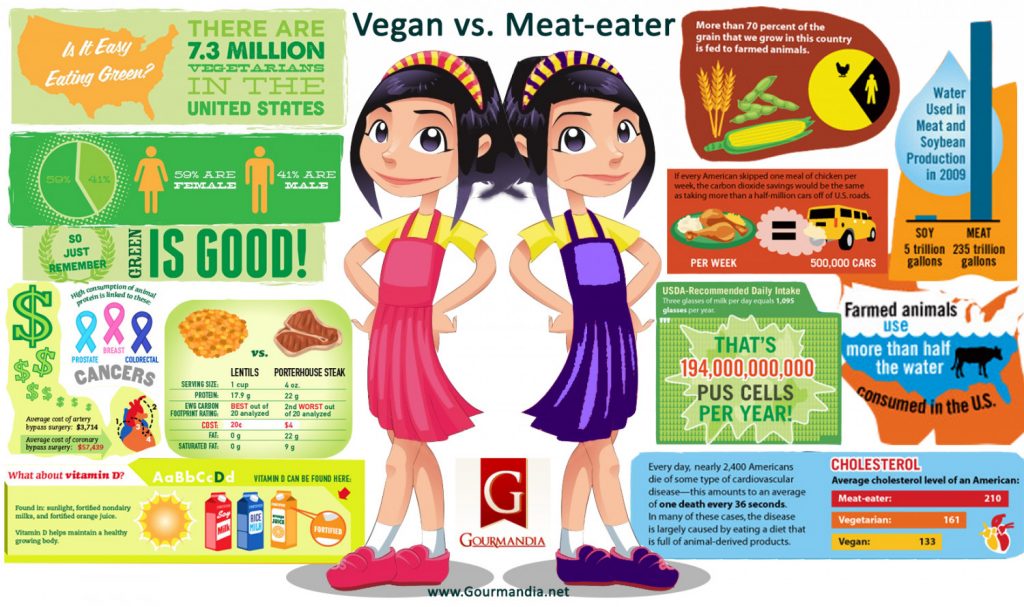 India can be proud to have the world's largest per-capita number of vegetarians (I have read reports of more than 40%). No other country can make such a statement of humanity and nonviolence. The vegetarian culture and lifestyle are India's greatest achievement and gift to the world. Only in years to come will the true value of this gift be known." It is important that we remain vegetarian not only for our health and nutrition, but from the points of view of spirituality, compassion, ethics, ecology and economics as well. When we see the end product of meat in the supermarket or leather in the shoe store, there is a long chain of violence that created it. These products endorse and perpetuate violence in our society, which contributes to the terrorism that is rampant across the world. Eating habits reflect upon a human being's thoughts, speech and behavior. A non-vegetarian diet makes one prone to violence. By moving away from food of violence we can move rapidly toward world peace.
Albert Einstein affirmed, "It is my view that the vegetarian manner of living, by its purely physical effect on human temperament, would most beneficially influence the lot of mankind." When a helpless animal is killed by a deliberate act of violence, it dies in great dread. Its body is flush with hormones produced by fear. These toxic substances enter the body of the person who eats the flesh and adversely affect his or her body and mind. I have always wondered, how can the carcass of an animal that died in mortal fear give good health and refined, spiritual inclinations to its consumer?
Additionally, meat production is one of the most environmentally damaging industries in terms of pollution and inefficient use of agricultural land. According to a 2006 report from the United nations Food & agriculture Organization, livestock production is responsible for more greenhouse gasses than all the motor vehicles in the world, plus it severely degrades land and water. It is also necessary to remove the myth and argument that vegetarians will not get enough food if non-vegetarians do not eat meat. This is a fallacy. It has been conclusively proven that more people can be sustained on vegetarian food than a diet based on meat. Live- stock occupy over 30 percent of our planet's land surface, and 33 percent of global arable land is used to grow their feed, pointing to why a meat-based diet requires seven times more land than a plant-based diet. Thus, one of the easiest ways to help restore our environment and feed more people is to stop raising and killing animals for human consumption. We have no right to take the life of an animal when we cannot give it.
Economically, a vegetarian diet is preferable to a non-vegetarian diet. The same energy one can get from meat and eggs one can get from pulses and cereals. It actually costs three or four times as much money to produce an equivalent amount of calories from animal sources as from vegetable sources. Some people may worry that self-control and too much care about nature would hamper development and bring about poverty. We know too well, however, that the more we consume, the more expensive things become, leading to the growth of the destitute class. Reckless commercial development also results in economic and social crises, bringing further suffering to the poor.
AHIMSA does not deny economic development; it only exercises self-control, limits our desires. Desires are endless. More and more desires give rise to materialism and extraordinary greed, far beyond basic human needs and sustainable consumption. Greed results in the destruction of the very roots of our life. If we want to prevent the world from becoming a barren desert and our societies from growing into monstrous systems of injustice and suffering, self-control and nonviolence appear as the only reasonable answer – not only for Jains, but for people of any creed. For any spiritual being, the destruction of life, be it in the air, the water or on the ground, is undesirable. But even if you do not subscribe to this principle, you will agree that reckless destruction of life could eventually lead to mankind's own demise. Jainism is not the only Indian school advocating nonviolence and self-control as central principles. Buddhism and Hinduism equally preach them.
Ayurvedic diet for everyday healthy lifestyle
---
Making an Ayurvedic diet part of you every day lifestyle doesn't have to be expensive or difficult.
People in the Western world are starting to become more aware of the benefits that Ayurvedic dieting can have on their overall health. However, there are many places that do not have Eastern food markets that are easily accessible.
While it is much easier to find some of the more obscure Ayurvedic foods, herbs, and ingredients in this type of market, the bottom line is that you will be able to find all the foods that you need for this type of diet in pretty much any supermarket.
This article will talk about which foods you should be on the lookout for the next time you go shopping. You will also find out which foods are ideal to consume for your specific dosha, which is another name for an Ayurvedic body type.
First, let us begin be explaining what a dosha is. According to Ayurveda, every person has their own unique blend of three principles of the body and mind. This blend helps to create each person's unique physical and mental characteristics. Doshas are these three principles.
The three doshas are called Kapha, Pitta and Vata.
If you are unaware of what your dosha is, there are various quizzes online that you can take to let you know. Each dosha has foods that will help to balance it and foods that will aggravate it. The key to maintaining good health through an Ayurvedic diet is to learn which foods to eat and which foods to stay away from as they relate to your dosha.
Ayurvedic dietary recommendations for vata-pitta-kapha type individuals follow a common sense approach, requiring small changes to your food choices and eating habits. The importance of a wholesome diet that includes every food group is heavily emphasized, but there are clear guidelines on specific foods and beverages that should be included or limited. These recommendations are based on the unique properties of your dominant doshas and an analysis of the unique properties of foods, which influences their interaction with the doshas.
When planning an Ayurvedic vata-pitta-kapha diet, we look at 3 important qualities or characteristics of food – Rasa or taste, Virya or energy, and Vipaka or post-digestive effect. Understanding this Ayurvedic classification of food and your unique doshic makeup will allow you to make informed dietary choices. As someone with a tridoshic constitution, which is not very common, you have it pretty easy, as you can enjoy almost all foods in moderation. However, you need to understand the Ayurvedic classication of foods, so that you can recognize what constitutes balance. This may be a little tricky when you're just getting started, which is why it helps to refer to a dosha-specific diet guide. So, here's what every vata-pitta-kapha type individual should keep in mind.
Vata-Pitta-Kapha Food Qualities
As a tridoshic individual, you can be vulnerable to imbalances of all three doshas – vata, pitta, and kapha. This makes it important for you to recognize the qualities of each of the doshas. In case you notice signs of aggravation of any one of your doshas, you should modify your diet to pacify that dosha.
In case of vata aggravation, your meals should include a significant amount of foods that are heating, moist or oily and lubricating, grounding, and stabilizing. Salty tastes have a pacifying effect only on vata and should therefore be included too.
In case of pitta aggravation, your meals should include more foods that are cooling, heavy or grounding, and drying. Pitta can be pacified with sweet, bitter, and astringent tastes. However, these tastes can also pacify vata and kapha. This makes it a challenge, as you now need to ensure that you balance your intake to avoid unnecessary vata or kapha pacification. This basically means that a sweet taste that pacifies both vata and pitta, while aggravating kapha, should be combined with bitter tastes that pacify pitta and kapha, while aggravating vata. This would balance the pacifying and aggravating effects on vata and kapha, only pacifying pitta.
In case of kapha aggravation, your meals can include foods that are heating, light, and drying. Kapha can be pacified with pungent tastes as pungency has a pacifying effect on kapha alone, without pacifying your other two dominant doshas.
For a tridsoshic constitution, it is especially important that your diet choices reflect the changing seasons. Vata aggravation is most likely during the months of fall and early winter, pitta aggravation during late spring and summer, and kapha aggravation during winter and early spring.
The Best Foods for Your Dosha
The best way to start your day is with a cup of herbal tea with herbs, using herbs that pacify all three doshas, such as anantamul and brahmi. Herbs like ginger and ashwagandha can also be beneficial, but should not be used during the summer months as they can aggravate pitta.
Breakfast:
Although lunch is regarded as the most important meal of the day, a healthy breakfast helps to keep your energy levels stable through the morning, lowering the risk of unhealthy food cravings prior to lunch. Staying attuned to the seasons and their influence on your doshas, it would be best to consume a light breakfast that includes cream of wheat or barley, or puffed rice or wheat with coconut milk and ghee during summer, fried eggs with sautéed or steamed vegetables or a bowl of cereal with hot milk during the months of fall, and fresh fruits, stewed fruit, fruit juice or smoothies during winter.
Occasionally, you can also consume an Indian breakfast staple called poha that has a balancing effect on all three doshas. Prepared with rice flakes that are similar to rolled oats, the rice is soaked, drained, and lightly fried along with herbs and spices like mustard seeds, cumin seeds, asafetida, cilantro, and curry leaves.
Lunch:
Ayurveda regards lunch as the most important meal of the day, so no matter how busy your schedule may be, try to have a wholesome and balanced meal that includes various food groups. The ideal foods to add to your lunch include the likes of cooked basmati rice or oats or quinoa, with split yellow múng dal and ghee. As an alternative, you could include a whole grain non-wheat pasta. This should be accompanied with sautéed or cooked vegetables like asparagus, artichoke, bok choy, parsnips, parsley, okra, pumpkin, sweet potatoes, yams, squash, and taro root. Raw veggies and salads can be consumed during summer, but in moderation.
Your meal should also include some healthy protein-rich foods. This could come from legumes like azuki beans, red or green lentils, French beans, black eyed peas, tofu, and tempeh. Meats may be consumed in limited quantities and should only include healthier varieties like fish, chicken, and turkey. Red meat intake and processed meats should be severely restricted or avoided. All of your meals can be garnished with herbs and spices like asafaatida, basil, cinnamon, clove, cumin, dill, fennel, fenugreek, mint, ginger, sage, saffron, rosemary, thyme, and turmeric.
You can follow your meal with a drink of buttermilk or an herbal tea. With a tridoshic constitution, it is important to look for signs of imbalance and to make dietary adjustments to treat aggravation of any dosha, as and when they arise.
Dinner:
Your dinner can include similar foods as at lunch, but the serving size should be significantly smaller. Aside from rice and pasta, you could include a small bowl of soup or stew. Kitchari is a particularly healthy option and can be prepared to meet your special tridoshic requirements. While basmati rice and split mung dal are the staple ingredients in kitchari, you can include herbs and spices like fennel seeds, mustard seeds, cumin seeds, ginger, turmeric, cinnamon, and coriander to cater to your tridoshic needs. This can be accompanied with or combined with vegetables like French beans and carrots.
It can help to follow your dinner with a glass of buttermilk or herbal tea, favoring herbs like brahmi, cumin, coriander, and fennel.
Snacks:
With your tridoshic constitution, you have a wider range of snacks to choose from and can include fresh or stewed fruits, dry fruits and nuts, healthy nut butters like almond butter on toast or tortillas, avocado dip with cucumber or celery sticks, roasted yam or sweet potato, berries with coconut milk, and so on. Healthy fruit choices for your dosha type would include apples, avocado, sweet apricots, banana, berries, cherries, grapes, limes, lemon, and pomegranates.
Dry fruits like raisins, dates, and dry figs are good options, while nuts like almonds, pine nuts, cashews, and seeds like pumpkin and sunflower are healthy choices. Nuts can be roasted or fried lightly before consumption.
Timing Your Meals
As a vata-pitta-kapha type, you're probably already aware of the importance of a daily routine or dinacharya in Ayurveda. Meal timings are an important facet of this daily schedule and should be adhered to as far as possible. Keeping this in mind you should consume your:
Breakfast around 7:30 am
Lunch around 12 pm
Dinner around 7 pm
Obviously, adhering strictly to this routine can be challenging, especially when it comes to dinner time. If your work schedule does not allow for an early dinner, simply try to eat as early as you can.
Vata Balancing Foods
There are a wide range of foods that Vata body types can be found at most supermarkets to more easily balance their bodies. Fruits such as watermelon, prunes, plums, pears, mangos, figs, berries, apples, raisins, pomegranates, pineapples, melons, grapes, dates and avocados are all beneficial. Essentially, any sweet fruit you can find will have a balancing affect on a Vata body type. However, you should also be aware that any sour fruits could cause aggravation for Vatas.
In terms of vegetables, Vatas can feel free to indulge in zucchini, squash, parsnips, olives, green beans, beets, and artichokes to name just a few. Vatas should remember that vegetables that are cooked are the ones that are the most balancing. Raw vegetables should be avoided at all times.
Grains such as wild rice, wheat and oats are all beneficial to Vatas.
As far as dairy products go, yogurt, cheese and milk from a goat, milk from a cow, buttermilk and cheese are all able to be consumed in moderation.
Pitta Balancing Foods
The balancing fruits for Pitta body types are similar to those of Vatas. Sour fruits should also be avoided by Pitta's. In terms of grains, there are a wider variety that are acceptable, including cooked oats, white rice, oat granola, millet, buckwheat, brown rice and wheat bran.
Acceptable vegetables include mushrooms, potatoes, leafy greens, zucchini, artichokes, cauliflower, Brussels sprouts and broccoli. Both bitter and sweet vegetables are considered to be balancing for Pittas.
Kapha Balancing Foods
Kaphas can become easily aggravated by dates, bananas, and other sweet fruits. However, all of the fruits listed for Vata body types are acceptable.
There are many nuts and legumes that are known to be balancing for Kaphas, such as white beans, red lentils, navy beans, sunflower seeds, flaxseeds, black-eyes peas, split peas, pinto beans, lima beans, pumpkin beans, peanuts, coconut, cashews, Brazil nuts and almonds.
Eggs are acceptable, as long as they are eaten in moderation. There are some foods that may be difficult for many people who are Kapha's to avoid. If you have this body type, you should stay away from all seafood, lamb, duck, pork, freshwater fish and beef. Even venison should not be consumed. Diluted yogurt and goat's milk are acceptable dairy products.
There are a wide range of condiments, spices and herbs that are balancing for Kapha's. Thyme, spearmint, rosemary, peppermint, paprika, onion, mustard seeds, horseradish, garlic, dill, cloves, cayenne, black pepper, basil, poppy seeds, parsley, oregano, mint and ginger can all be used to enhance the flavor of your various Ayurvedic meals.
Super Foods From Your Supermarket
Ayurvedic dieting is one of the cornerstones to effective Ayurvedic living. With the number and proximity of large supermarkets in the West, particularly in the US, there is no longer any reason to avoid this central aspect of maintaining a healthy and happy lifestyle!
The Final Word
Your diet is something personal and these guidelines are meant precisely as that – to serve as a guide. You should use your own discretion to choose the right foods and meal times, but these Ayurvedic recommendations can help point you in the right direction. Just make it a point to include as wide a variety of these foods using the information provided. After all, Ayurveda emphasizes the importance of balanced nutrition and the whole range of food available to humans is more than we could fit into a single page! Simply avoid consumption of heavily processed and refined foods, as these foods are known to raise ama levels, increasing the risk of chronic lifestyle diseases.